Fans Can't Get Enough of KinkMen's Derek Kage 
By Mark Dawson
---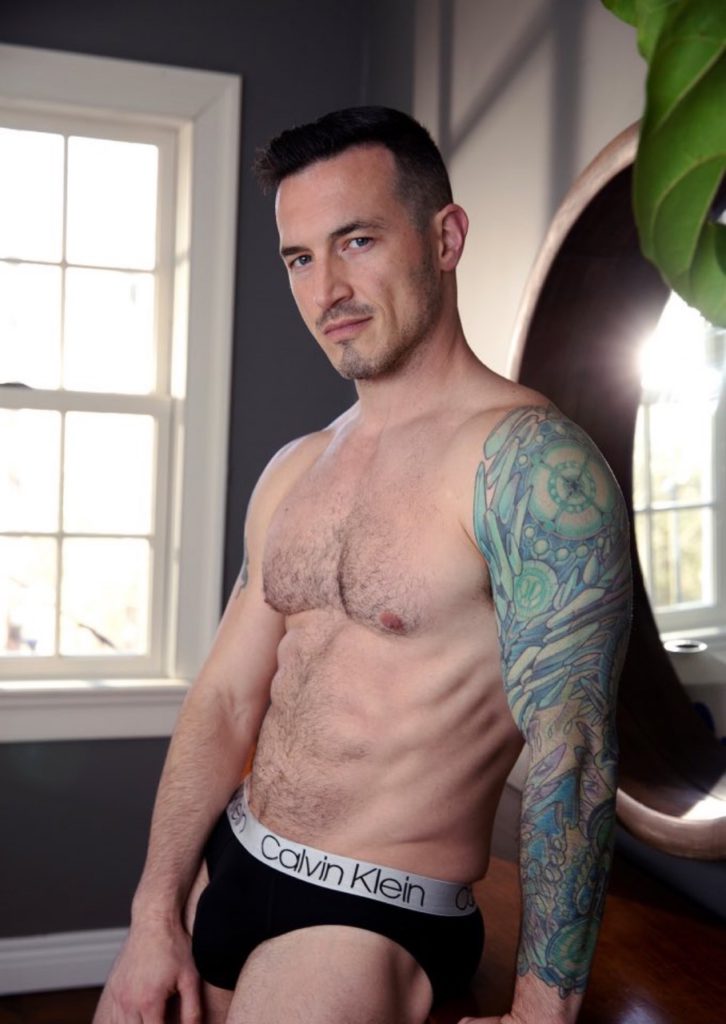 Growing up in conservative Huntsville, Alabama was not an enjoyable experience for Derek Kage, one of the leading men at KinkMen.com.  He was different: a very curious and precocious child who loved reading, art, and alternative music, and began exploring with drugs, alcohol, and sex much earlier than anyone else he knew.
Kage is much happier now, living in Salt Lake City.  But you know what they say… you can take the boy out of Alabama, but you can't take the Alabama out the boy.  Derek Kage remains quite the outdoorsman.  He loves to hike, backpack, camp, and fish.  He is a deep-voiced Southern gentleman in the streets and whatever the occasion calls for in the sheets.
We sat down with him to learn more.
When was your first experience with a guy?
Derek Kage:  It was back in the days of AOL chatrooms.  I met a guy in Alabama M4M chat room. He came over and I gave him a blowjob and that was it; nothing truly memorable. I tried again and another guy came over and I bottomed for the first time and, I have to say, it was really hot and I loved how it felt. It was a much better experience than my first time with a guy. This was how I went about hooking up with guys for the next few years.
Were you still in the closet?
I didn't fully come out until I was 23. I'm not one for fanfare, so I finally told my mother I'd fallen in love with someone and that it was a guy. She was very supportive and so was the rest of my family as it wasn't that big of a surprise to anyone.
What led to your pursuing a career in adult film?
I've always been a hyper sexual guy and I loved the idea of being in porn and performing. Grant Ducati asked me if I wanted to do a Trailer Trash Boys scene with him. I said yes and honestly, it was the best decision. I had such a great time and was asked back for another scene for Gentleman's Closet. It was one of those eureka moments where I found my calling and I have pursued it with a passion.
What are the best parts of the job?
I cannot say enough positive things about the adult film industry. It literally saved my life. The people I meet, the places I get to go, the camaraderie on set, the satisfaction of seeing a completed scene… are all the things I love about the industry. 
How has being a porn star impacted your dating life?
I imagine this question gets asked a lot because people that are not in the industry may have difficulty dating someone in the industry, but I haven't had that experience. I'm very open and honest about what I do. If someone doesn't want to date me because of my job, then I didn't need them in my life to begin with. 
Your genre of adult film is pretty extreme, Derek.  When did you first discover kink? 
I honestly don't know. I think Tumblr and Twitter helped me to discover new kinks and then connect with people to talk to about them. These days, my kinks are often discovered on the Kinkmen.com studio set where I get to explore them with some of the most experienced and sexiest performers around. 
Do you like pain?  
I wouldn't say I like pain. I know some performers that genuinely love to be pushed over the edge with it—so I know that I don't enjoy the pain like they do. 
Do you find pleasure in being disciplined?
I wouldn't say that either.  I enjoy the power exchange in a dominant and submissive relationship. There is a heightened sense of mental and sexual pleasure through discipline and pain.
The scene in KinkMen's Silent Hill Delirium when Davin Strong is literally beating your balls… that had to hurt!  
That scene was so intense and I absolutely loved it. There is hardly a situation where I would not enjoy whatever Davin Strong was doing to me. In that scene everything was consensual and discussed before going into it.  I felt completely safe and I enjoyed it immensely. 
Were those screams real?
The ball-busting was real and those screams, grunts, and groans were all genuine. When I'm put in those kinds of situations, I go into such a submissive headspace that I am able to totally let go and feel everything that is happening in the most sexual way possible. 
How does the director keep things from getting out of hand on set? 
Every kink set I have been on has been extremely cognizant of the safety and well-being of their models.   If things start to get past comfort zones, we generally use two words: "mercy" if we want whatever is happening to be reduced in severity and "red" if we want it to completely stop. 
What if a performer is gagged?
If a performer can't speak, they're told to look at the camera or anyone on set and shake their head back and forth to signal they want to stop. 
Do you prefer being the dom or sub?
My sexuality is very fluid.  It's all about mood, chemistry, and ability.   I have mostly been a submissive in the KinkMen world. I think it has to do with how much I am able to take with regard to pain, humiliation, being tied up, and zapped.
In KinkMen's House Dom on Edge, you dominate Christian Wilde. 
I have to say that Christian Wilde is one of the greatest performers that I have ever worked with.  Our chemistry is extremely palpable and I always have the most intense orgasms when we are performing together. House Dom on Edge was quite the switch up in our dynamic as he is usually the Dom. I have to admit I really enjoyed watching him squirm.
What is something fans would be surprised to know about you? 
I'm actually quite introverted. I tend to be a loner.   I have a social battery that needs to recharge pretty regularly.
Do you have a secret talent? 
I am a great cook and a decent soccer player. 
What makes you smile?
Good food, knowing I'm about to travel, finishing a great scene, and when someone can banter back and forth with me.  Also, relaxing is nice. 
What makes you angry?
People that don't treat others with respect and empathy.
You find a magic genie bottle. What are your three wishes?
First, pay off all my debt. My second wish would be for meaningful gun control legislation. Third wish: free the genie.
Which celebrity would you most like to slide into your DMs?
Just one? I need like a top three here. 1) Michael B. Jordan 2) Megan Fox 3) Maluma. Or all three at once.
You're about to be hit by a truck (sorry). What flashes before your eyes?
The headlights? 
What does your gravestone read?
I hope it reads, "He lived and died on his own terms".
What is the biggest misconception about Derek Kage that you would like to clear up once and for all?
My sexuality has been questioned recently for collaborating with a cisgender female, but I don't feel it's necessary to clear anything up. I am a very hyper sexual man and I love to explore my sexuality in every way my filthy little mind can imagine—and I am very imaginative.
Visit KinkMen.com