By Ethan Laird
Photos by Miguel Mendoza
---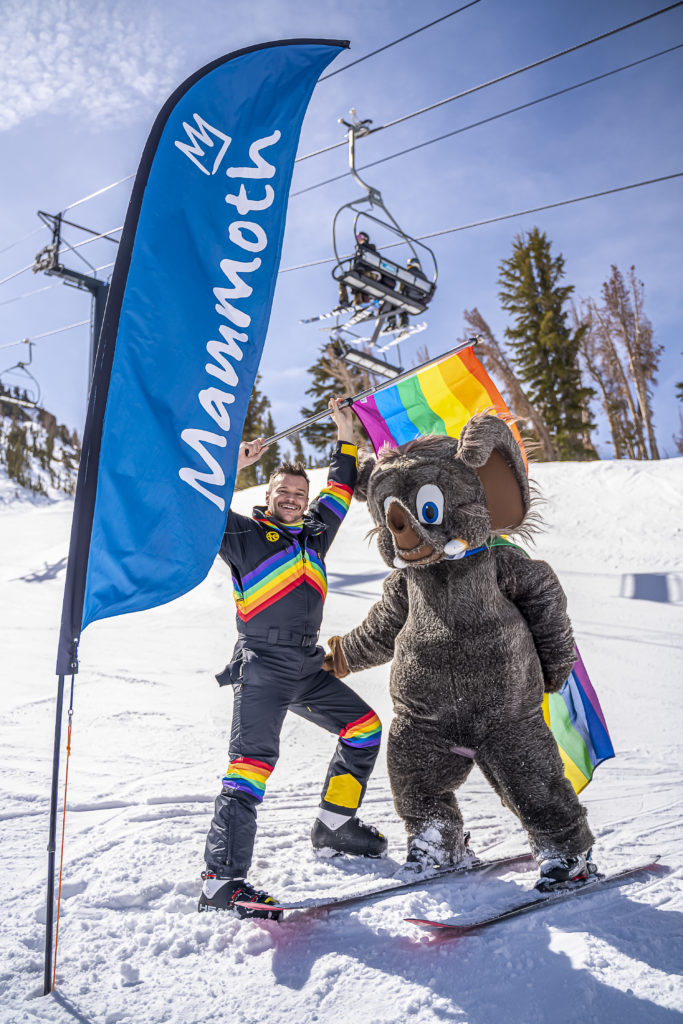 You can legally drink, but can you be a Daddy at 21 years old?  That's a rhetorical question, but you'll be able to answer it if you join more than 2500 guys and girls at the 21st anniversary of Elevation Mammoth Gay Ski Week from March 15-19th, 2023.  You'll have fun (read: sexy, silly, adventurous fun in the outdoors and indoors) figuring out the answer.  After all, Daddies are "in" right now.
Speaking of Ski Daddies, LA event producer Tom Whitman put his love of producing big gay events together with his lifelong love of skiing and snowboarding, and remixed the two to create the first Elevation in Mammoth more than two decades ago.  
If Elevation Mammoth is the Daddy of gay ski weeks, Elevation Utah is the smoking hot big brother.  Almost as large as Mammoth, the Elevation Utah event has grown incredibly over the last 13 years, and takes Park City by gay storm each February.  In 2023, it's entirely possible that Elevation Utah will be the biggest Elevation of the year for the first time!
The baby sister of the family, Elevation Tremblant, is still on a timeout this year due to COVID, but according to Whitman, we can definitely look forward to the return of a 3rd Elevation event in 2023.
The Elevation Gay Ski Weeks have become the gold standard of gay getaways, and their legendary status is due, in large part, to Whitman's uncanny ability to be always dependable but never predictable.
Whether you attend Elevation Mammoth (the friendly Cal-centric snowboarder and ski-bro heaven with blue bird spring skiing) or Elevation Utah (an adorable mining town turned into upscale gay ski paradise at the largest ski resort in the US) you know exactly what you're getting into: superb slopes for shredding, damn-good DJs for dancing, and fun feisty dudes for… having a nice conversation by the fire. 😉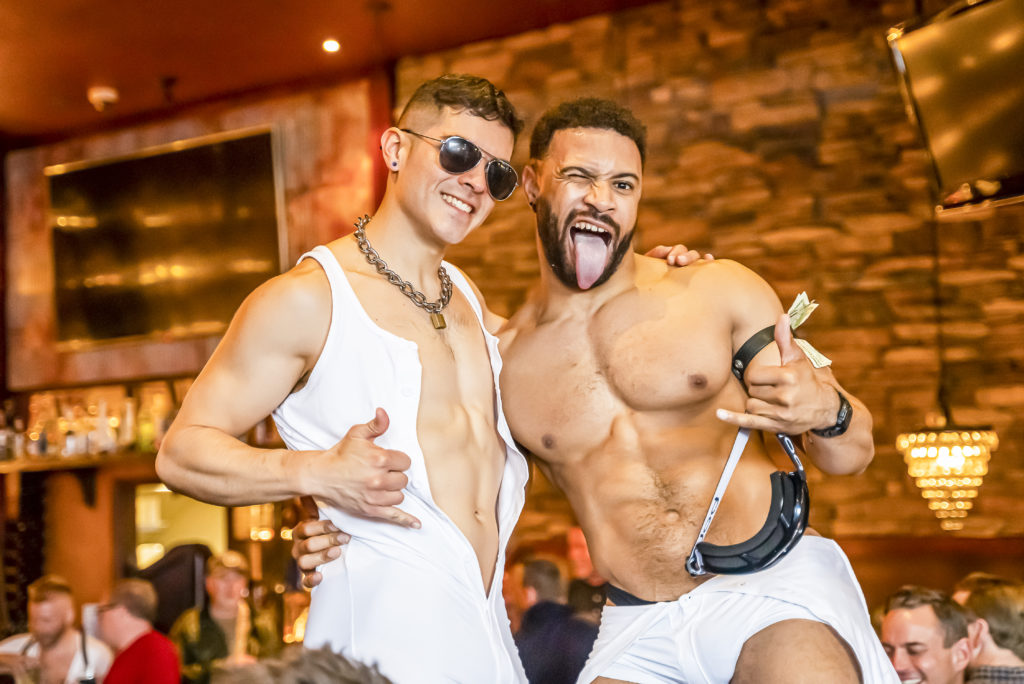 You'll also never know exactly what you are going to get.  Whitman's magic lies in his ability to give people those expected extravaganzas that we look forward to every year at Mammoth, mixed in with just the right number of new tricks pulled from his snowproof sleeves.  One event that we look forward to every year in both Park City and Mammoth is the Onesie Apres-Ski, an Elevation Gay Ski Week tradition that manages to be sexy without losing its sense of humor. Where else can you find a collection of burner boys in rainbow bodysuits, gaymers in unicorn-horn hoodies, circuit boys in ass-less onesies and lumberjocks in wool socks?
The Friday night neon party is now called "Glow Ho," and if you don't bring any black light reactive clothing, they'll have boys to glowpaint your face (or chest or butt or… whatever.)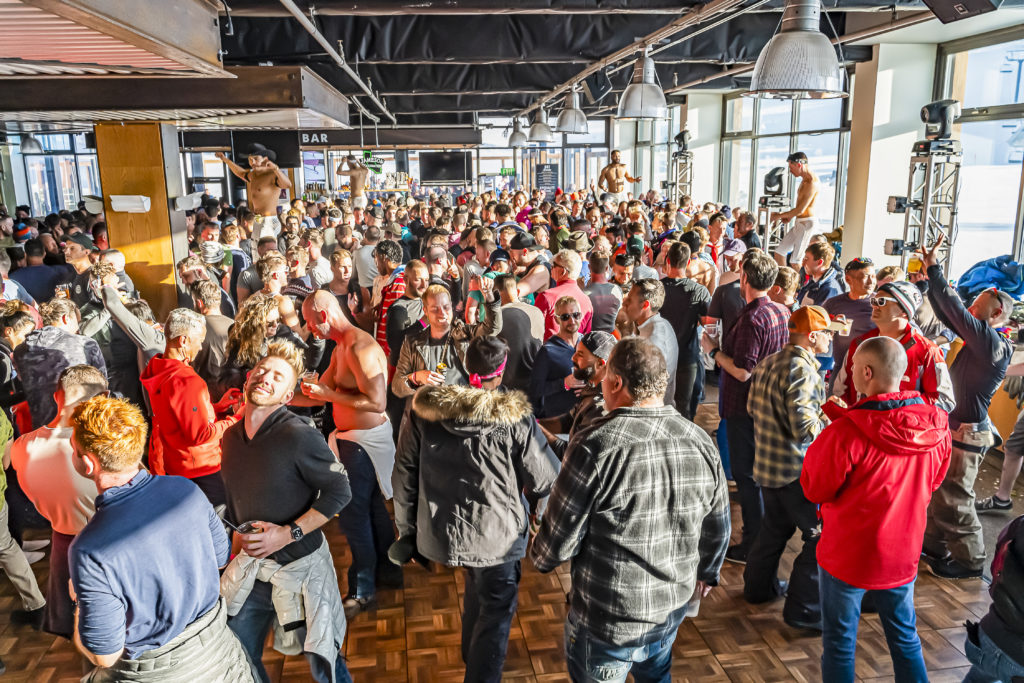 The Saturday night event, GEAR, is the most overtly sexy party of the week, but again, doesn't take itself too seriously.  It's like a warehouse party at altitude (don't think about it too hard). The dress code is gear – leather gear, sports gear, ski gear.  Just put some THOT into it.  (What's the difference between a straight ski week and a gay ski week?  A harness.)
All the themes are fun, but Brian, an attendee based in LA, says that it's all about the connections, "I love Elevation because it provides a unique opportunity to see so many friends in a radically different environment.  And it's also an event that spawns new friendships each year."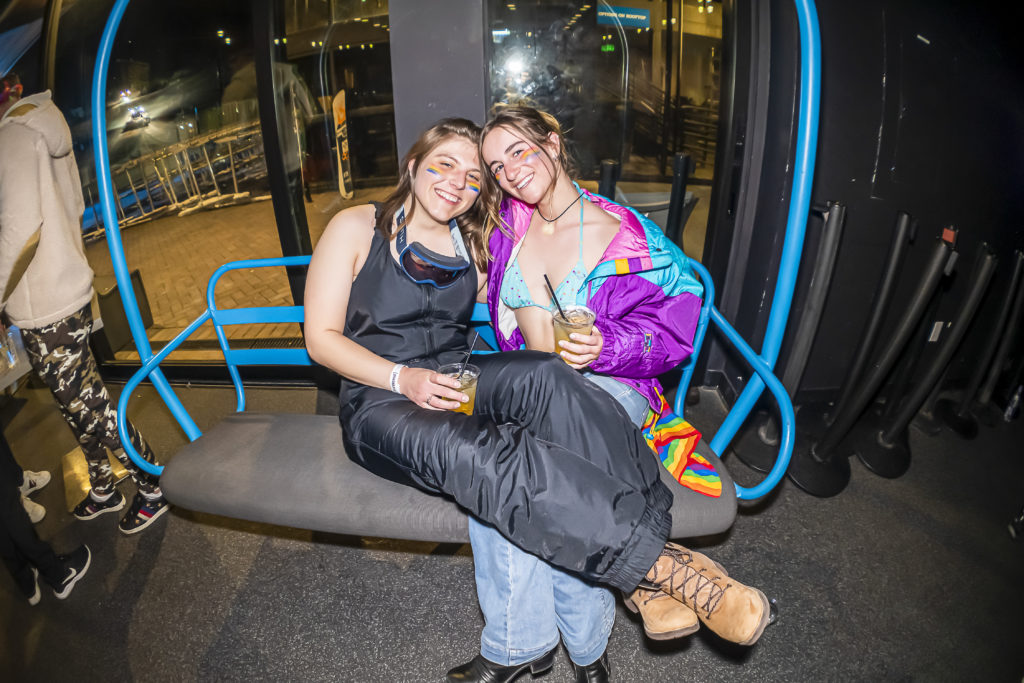 The music at Elevation is always top-notch, with DJs bringing a total of 25 events to life over the course of 10 days at the 2 locations.  After an insane Elevation debut in Mammoth last year, DJ Joe Pacheco is spinning his first Elevation Utah this year.  DJ Dan Slater is headlining Elevation Mammoth, and the roster of other DJs will include the incredibly talented DJs Josh Peace, Casey Alva, Max Bruce, Dawna Montell and others to be announced.  (Whitman does like his surprises.)
Elevation brings up what feels like a busload of gogo dancers (we're not complaining), and some amazing drag performers for party performances, drag brunches and more.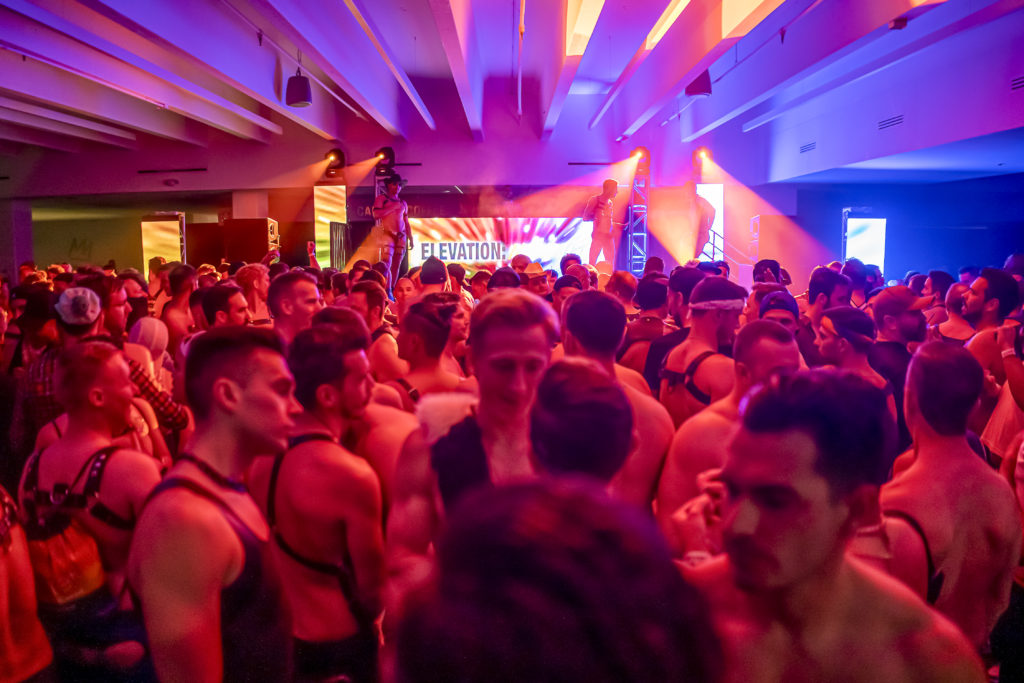 Choosing which Elevation to attend can be a tough choice. (And you don't have to choose, do both!)
Every year, regardless of which I pick, I have a different experience at each ELEVATION.  I've made new friends each year, sometimes a future ex-boyfriend, I've had bluebird ski days and fresh powder snowy days. You can ski all day and crash early, party hard and sleep in, or be the first-chair-last-call hero we all wish we were.
Get ready.   Let's have a ski-ski.
Info on the Elevation events are at www.elevationgayski.com.