Thanksgiving in The Desert
INNdulge Palm Springs Hosts Its Annual Poolside Turkey Feast
By Ian Bosner
INNdulge Palm Springs is inviting gay men from around the globe to celebrate the season of gratitude and harvest with other gay men at a poolside Thanksgiving Feast.   "We love Turkey Day so much, we're preparing all the food ourselves, homemade from scratch," says Jon Jackson, who shares the responsibility of owning and running the clothing optional resort with his husband, Sandy.  The pair will serve up some deep-fried turkeys with their own special rub, mashed potatoes, corn soufflé, sausage stuffing, and green bean casserole.  For dessert, they're preparing pumpkin pie, apple tart, and pecan pie.
"Thanksgiving at INNdulge is about good food, great entertainment and breaking bread with new friends," he continues.  
The annual poolside Thanksgiving Day feast has been a long-standing local tradition at INNdulge, even before Jon and Sandy purchased the property with its epic mountain views in 2010.  The husbands continued the annual event because they see it is an important way to celebrate the unique family bonds shared between men in the gay community.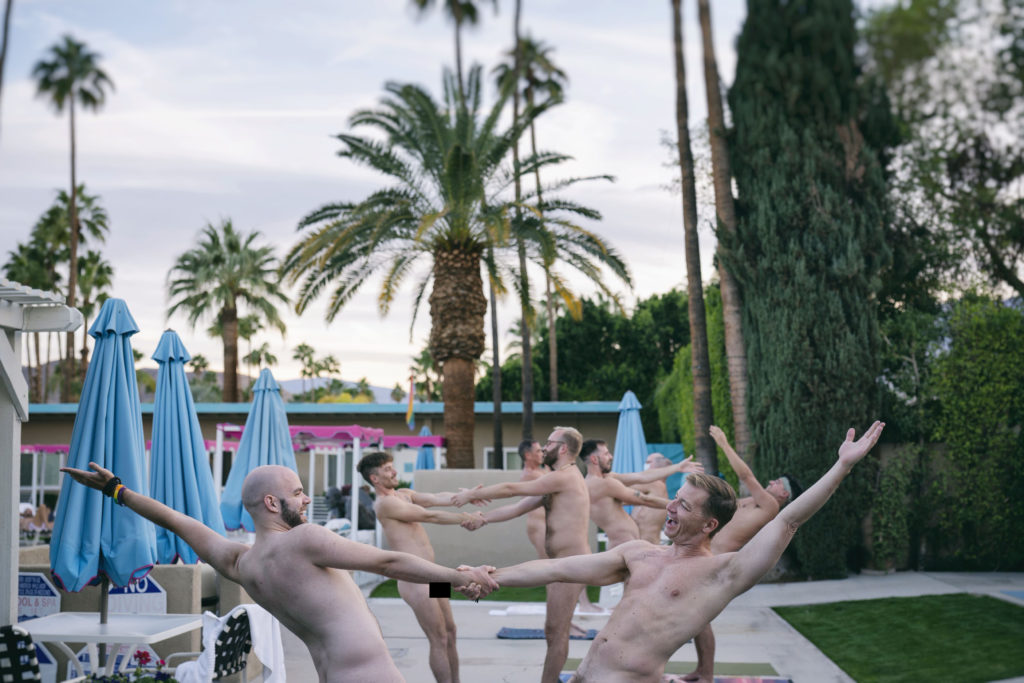 "We are a tribe," Jon explains. "Our gay friends are the family we choose."  
He and his husband are also big on decorating for the feast.  They create an atmosphere reminiscent of the Thanksgiving holidays we all grew up with — or wished we had grown up with.  Live entertainment by local musicians add to the magical ambiance, particularly when the sun begins to set.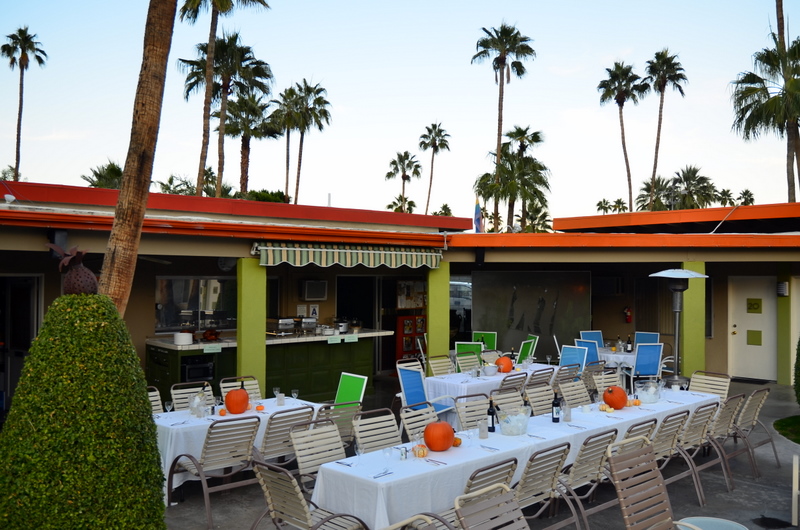 The Thanksgiving feast is open to all resort guests at no additional fee.  Attire is 'come as you are,' however, be warned that some guys do like to dress up Palm Springs chic.  Generally, around fifty men attend every year.
For those considering traveling to Palm Springs, November happens to be one of the best times of the year in the desert.  Temperatures are in the low 80s, still high enough for pool activities.  The sun starts to set earlier, so evenings cool down, but not to where a jacket is needed.  It's the ideal weather for outdoor dining.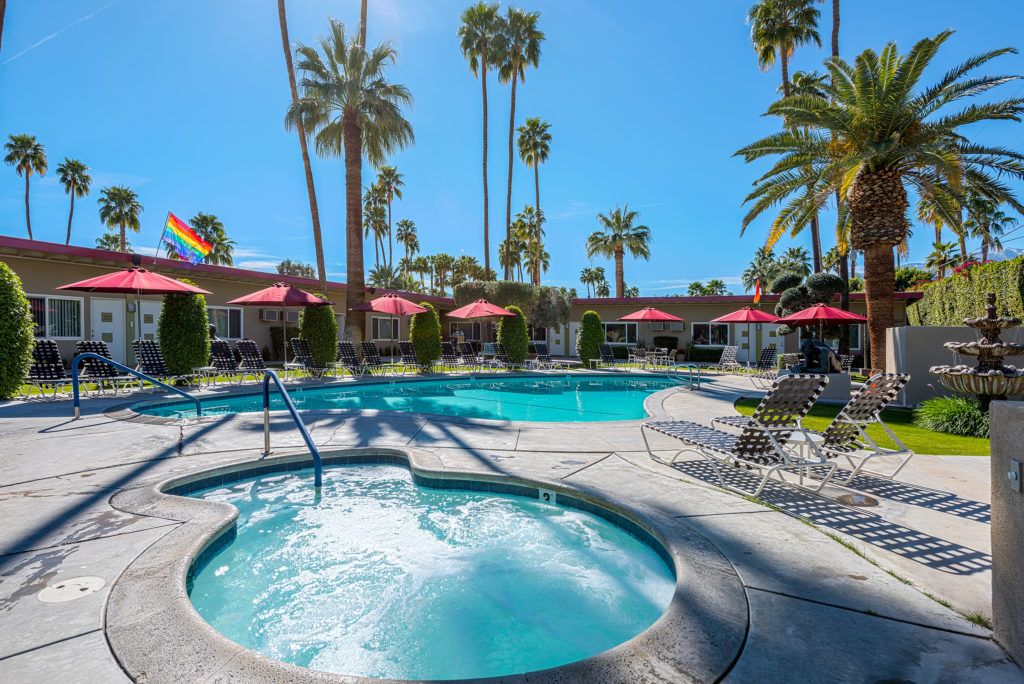 There's plenty to do in Palm Springs, from the springs to the golf courses and spas. There are also tons of bars, restaurants and nightclubs catering to the large gay crowd.   
Popular for its midcentury-modern architecture, the city has been the desert playground for gay men and women since the 1920s.  It became especially popular in the 1950s when stars like Rock Hudson and Tab Hunter made Palm Springs their second home.  Today, nearly half the city's residents are gay.
In its 21-year history, the courtyard at INNdulge has played host to many significant events including weddings, birthdays, reunions and more.   The resort is world renowned for its impressive courtyard that features immaculately landscaped lawns and walkways with large modern figure sculptures by artist Mavis McClure.  The centerpiece of the impressive courtyard at INNdulge is the magnificent kidney-shaped pool and 12-man keyhole whirlpool spa. "The courtyard is a wonderful setting for any celebration," says Jackson.  "It's a visually stunning paradise… a perfect reminder that there is still so much to be thankful for."
Jon and Sandy will also host a feast on Christmas Day.
Visit http://inndulge.com