OnlyFans Content Creator KC Jaye Goes "Off Leash" In Candid Interview
Words by Gloss Staff | Photos by James Franklin
With nearly 200K followers on Twitter, over 100K followers on Instagram, and 2.6K posts on his OnlyFans page, KC Jaye is one of the most prolific and succesful adult content creators around. We sat down with him to discuss his journey and what he had to let go in order to truly become "unleashed."
---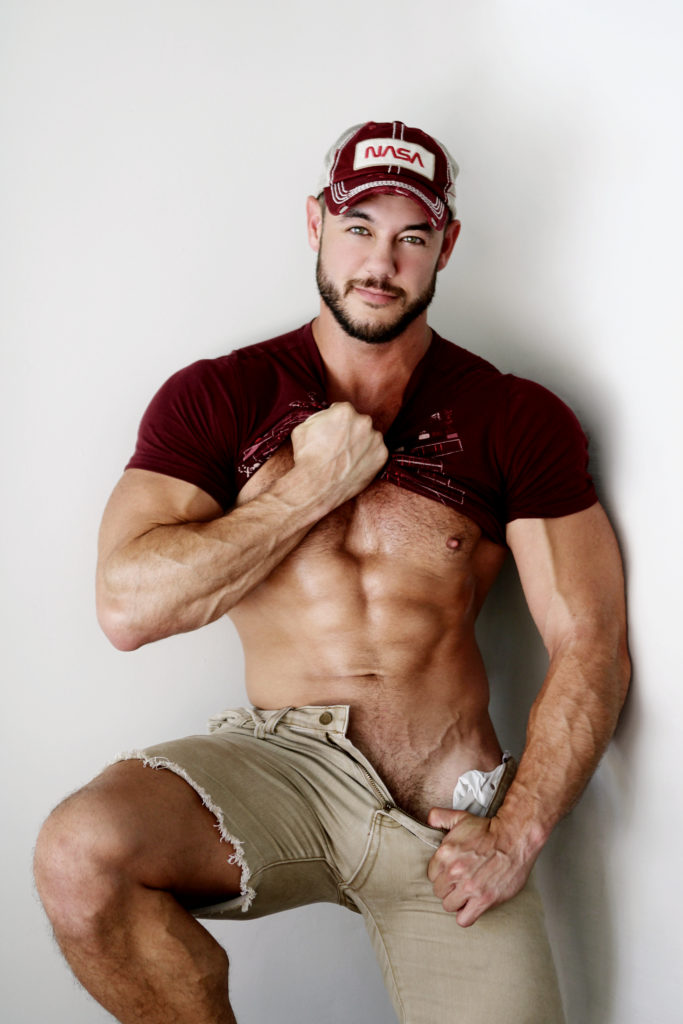 Q) What did you do before launching your OnlyFans career?
A) Before OnlyFans, I was a full-time student, attending university in Utah to get my Bachelors Degree in Political Science and International Relations and my Masters Degree. I worked at the Utah State Capitol as an intern and was studying to go to Law School. When I decided to go to Business School for an MBA rather than a law degree, I began my OnlyFans as a way to pay for school while my husband worked full-time to pay the bills. I was able to fast-track and finish my Masters Degree in 1 year with the support of my husband and the money I was making on OnlyFans.
Q) You and your husband have been together since 2014. How did you two meet and how do you both navigate a relationship working as adult entertainers?
A) Yes, I call him Hubster [laughs]. Our first official anniversary date is our "Grindr-versary." The two of us started out as a Grindr match while working out at the 24hr Fitness in Provo, Utah. He was the outgoing owner of a CrossFit gym, and I was a shy, closeted college student. We were just supposed to be an NSA hookup that night after the gym — that was 9 years ago this November! I was hooked that first night and after being hook-up buds for several months, I moved in, and we started officially dating. He made all the moves — I was such a shy, nervous little guy back then!
Hubster was a major influence on my decision to fully come out of the closet. I no longer wanted to hide that I was gay once we started dating. Within a year of us meeting, I came out to everyone in my life, and around that same time I proposed to him, and we got engaged. We have now been married for almost 7.5 years.
We have always had great trust and communication with each other. I was so new to sex and life experiences when we first started dating and he knew there was a lot of life and exploration ahead of me. He had been out for nearly 15 years by the time we started dating. He had dabbled in filming, he had lived in various areas of the country, and he had dated and had his social fun for years. He told me in the very beginning when we started dating that he wanted me to feel free to explore and enjoy life, but he knew I was "the one" for him so he just wanted to go through it all with me and to be by my side for it.
I was just starting to leave my extremely conservative Mormon background and he knew I had a lot to see and experience outside of that world. He has supported me fully and we have enjoyed exploring so much together — both publicly with my Fan Page career and privately in our own time. We balance each other out well and are the best of friends, but I feel that it's been our transparency with each other that has gotten us through any of the tough spots when it has come to the porn industry and our marriage. Trusting each other has been KEY. He was true to his word in the beginning with letting me discover and explore life and myself while coming along in my journey. I feel what I have with my husband and our marriage is a rare find within the industry and I am so proud of it.
Q) How is your social life?
A) It's been really exciting and vibrant this year. A huge difference from just a short time ago during the height of the pandemic and COVID shutdowns. I have really enjoyed traveling and building friendships all across the USA this summer particularly. I spend about half of the year traveling for filming work and events. Usually from April to September I am away from home, and then during the winter-half, I am home in Southern California.
Most of my friends, I'd say 90% of them, are actually not in the adult industry at all. The guys I work with for filming are generally more like co-workers to me. I enjoy a lot of them but don't spend significant time with most of them off-camera.
I try to balance my summer busy season and trips by adding days-off to spend time outside of filming and "work world". I don't work a Monday-Friday schedule and much of the time my biggest workdays are actually the weekends.
At home in California, I have a couple of core groups of friends in LA and San Diego that I spend most of my time with. I travel back and forth between the two cities quite a bit. LA is definitely much more fast-paced and there is always an event or something going on there that we like to attend with our friends there. San Diego is much more relaxed for me; I spend a lot more time outdoors and doing other adventures there with our friends. I spend much of my time at the beach, with my dogs, and outdoors in San Diego. I love how different both places are for me. I've found incredible friendships in each.
Q) What is the biggest assumption people have about you?
A) I hear a lot of assumptions made about adult work being viewed as a last resort, implying that those choosing to work in the industry are beneath people in other fields. I hear a lot of assumptions made about who/or the type of people that adult entertainers are.
Fan Page work changed the game for the industry. When I first started, adult work was much more taboo, even within the gay community. I have watched as Fan page filming has shot adult work much more into the mainstream. Now it almost seems that everyone knows a friend that has one. I think it's incredible how much has changed in the past 5 years.
I never planned to work in adult filming. It was a means for me to get ahead in life quicker. Initially it was to pay for my Masters Degree and then by the time I graduated, I was making full-time money running my page. I was able to move my family out of state and relatively stress free to California with the income I was making. I've continued doing it full-time ever since. I realized after I graduated that I would be making half my income sitting in an office and working for others, so I chose to continue on this path, and I've thoroughly enjoyed the lifestyle and the freedoms it's given me and my family.
Q) What would people be surprised to know about you?
A) I speak Mandarin Chinese, I've lived in Hong Kong, and I studied in Kunming, Shanghai, and Beijing, China. I did study abroad programs in China for both my Bachelor's and Masters Degrees. I loved living in Hong Kong and would love to live there again if I ever had the chance. Asia opened my eyes to an international experience and lifestyle. I've taken my husband and parents back to Hong Kong and across China to visit a couple times since living there. I feel many Americans don't think to visit that part of the world, which is a shame.
Q) What is your home life like? Are you out all the time or are you more of a homebody?
A) During the 6 months that I spend mostly at home, I'm more of a homebody. You are much more likely to find me nesting at home with my husband and pups. I am much more of a social butterfly when I travel and am in the midst of my work trips.
When I am back home, I love my routine. I am a morning person — my favorite time of the day is sunrise. I'm up at dawn with our two schnauzer pups and my coffee on our rooftop to watch the sun come up most mornings. Once the sun rises, I usually go right to work on my computer with social media, emails, editing, and Fan Page backend work. I don't hire out any of my work with my media, so it's all done by me during the first half of the day. I try to be at the gym in the middle of the afternoon while it's relatively empty and then I focus on family/home stuff, errands, and filming if I have any time in the afternoons. Most days you'll find me in bed by 9pm and asleep by 10pm. You'll find my husband up after midnight watching anime with our pups. Opposites certainly did attract in our case!
Q) Have you learned any important life lessons in recent years especially with Covid changing so much of our world?
A) COVID changed so much in an instant, we were out at the height of social season locally the week before California shut down. I had no idea at the time how drastically our life would be changed for the next year — especially with how life here in California became during that time. I had barely lived here for one year when the shutdowns came and ground the life I knew to a complete halt. That really helped me realize how quickly life can change. Social life, family life,
income stability, health — it all turned upside down for so many. I think at times we can have a false sense of comfort and security. We tend to get caught up in our daily life routines and comforts and don't realize how easily everything can change. I think the pandemic helped me appreciate the life I have, the relationship I have, and really all the people I have around me so much more; the people who fill our lives, and give life and vibrancy to them. That really stuck out to me in those periods of isolation. My friends and family are incredible people. Life means little and becomes quite dull and poor without them.
I was one of the lucky ones. I wasn't able to film with anyone outside my relationship during that time, but my income boomed from so many people being online and home. I am very thankful I was able to work and provide as I was able to support my husband and our boyfriend while their jobs ground to a halt and disappeared during the shutdowns. It gave me an opportunity to get creative and think outside the box since collaborations could no longer be counted on. The pandemic also showed me that major growth opportunities can come from the challenges life throws our way.
Q) Within the Gay community you are very recognized. Is there anything you miss about your life before porn?
A) It's still strange to me how much I'm recognized within the gay community. I don't know if I'll ever get used to it.
I didn't like the socially anxious, nervous, insecure guy I was back before porn. My Fan Page, and specifically my early expressions of nudity on the page, was a tool of growth for me. I initially started it as a nude hiking adventure page — I was not confident about how I looked nude but decided to have a "fake it until you make it attitude" about it because I truly loved nudist activities and loved the excitement about being an exhibitionist with them. Before opening my page, I did not feel much love for myself, my body, and lacked confidence. It stemmed from my very conservative and closeted life before porn.
Porn opened up a whole new world for me — free and "unleashed" from the dark, fearful place I had been in before, hence the "unleashed" being used in my social media handles. I love the growth journey I have been on through it all. I don't look back missing anything from the time before it.
Q) Do you get to travel a lot working in porn? Fill us in on your travel adventures.
A) I travel quite a bit during the summer season. I usually try to schedule a full work week in a major city, filming one collaboration video per day. I generally don't socialize much during those weeks and keep a strict sleep and gym schedule. I try to piggyback cities that are near each other when I can. During this past June, I was only home for two days — just long enough to wash my clothes, pack, and be on my way again. It's fast-paced, exciting and I really enjoy it. During the busiest times, I schedule in weekends for Pride events, and I travel and meet up with my husband and our dogs, when possible, to break up my work times and take a break. By the time September comes around, I'm usually ready for significant time at home base and quiet stability for a change. My half-year work method has helped me with avoiding burnout. I can focus on other things outside of filming/content creation during winter or my off-season, and then be on- the-go worrying about filming during the height of the busy summer season.
My biggest work cities this year were Miami, Los Angeles, and Puerto Vallarta. I've visited each multiple times for collaborations and photoshoots and have found them to be highly successful. San Francisco and Las Vegas were surprisingly successful for me as well this year. Washington DC, Dallas, and Houston were also fun visits this year, but not nearly as successful with filming work.
I'm hoping to branch out and travel to the East Coast and internationally this next year, specifically cities in Europe and Australia. I'd love to focus on cities I have never traveled to and collaborate with creators that I don't normally have a chance to work with.
Q: Where can we find you online?
You can find me at @fitnessfreak_unleashed on IG, @Fitnessfreak_U on Twitter, and on OnlyFans at onlyfans.com/fitnessfreak_unleashed.
PHOTO CREDIT: James Franklin justfor.fans/Jfranklinphoto | IG:@jamesfranklinofficial