By Romeo San Vicente
Aug. 22, 2022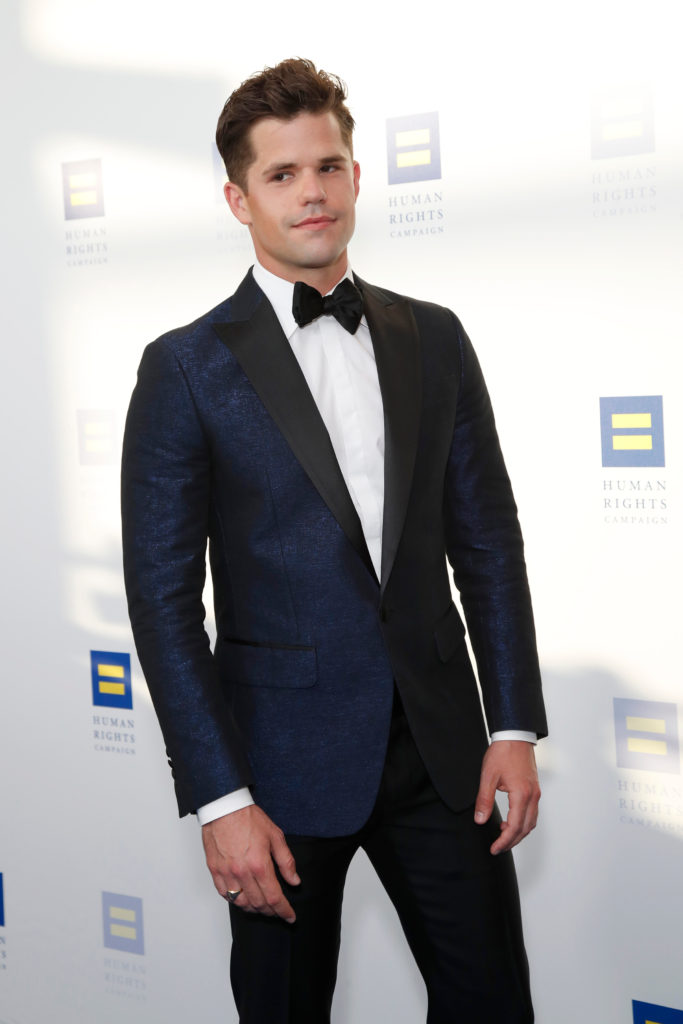 The 'American Horror Story' cast is more queer than ever
Season 11 of "American Horror Story" is on the way, and the roster of stars is quite satisfyingly queer. Zachary Quinto is back for another round; Russell Tovey will make his "AHS" debut; Joe Mantello and Charlie Carver, from 2018's Broadway revival of "Boys in the Band," and Isaac Cole Powell from "West Side Story" are also along for the ride; "Pose" co-star and all-around comedy legend Sandra Bernhard is confirmed, even though Sarah Paulson, an "AHS" vet, has not yet made it clear if she'll be returning or not. And finally, queer-adjacent Broadway royalty Patti LuPone is set to make her mark on the production, too. It's currently shooting in New York, but plot details are currently top secret. Stay tuned.
Jason Isaacs takes the lead in Cary Grant biopic
The Cary Grant biopic, a four-part limited series currently in production from screenwriter Jeff Pope ("Philomena") and starring Jason Isaacs, is called "Archie." Confused? Well, young person, Cary Grant was a huge movie star in the Golden Age of Hollywood during the 20th century and his real name was Archibald Leach. The handsome young man arrived in Los Angeles, secured a studio contract, a name change, a "bachelor roommate" situation with fellow movie star Randolph Scott (and before him costume design legend Orry-Kelly), and then a series of wives. As the public image was constructed, Grant's star rose, and the rest is public history. Will "Archie" lean into or out of the private and unconfirmed biographical details of Grant's life? Who knows, but it is confirmed that the series will deal with his impoverished childhood in England, and his last marriage to actress Dyan Cannon. Beyond that, it's anyone's guess, but queer history has always been about reading between the lines of the official story.
Hari Nef to star in Candy Darling biopic
Rising transgender star Hari Nef, making memorable turns in "And Just Like That…" and "Transparent," is moving forward to a starring role in the upcoming Candy Darling biopic. "Transparent" writer Stephanie Kornick is behind the script detailing the career of the trans pioneer, who left Long Island behind for Manhattan and a life as one of Andy Warhol's group of "superstars." She appeared in the Warhol-produced films "Flesh" and "Women in Revolt" – in addition to the cult queer exploitation flick "Some of My Best Friends Are" – and was the subject of the Velvet Underground song "Candy Says" as well as a figure in Patti Smith's memoir, "Just Kids." In other words, a short but shining life and an important part of queer cultural history. A film like this has the potential to be not just a gift to queer viewers but a chance to bring Nef's star power to a wider audience. More news on this one when a title, director and more cast are announced.
Matt Rogers of 'Fire Island' will gift us with his own Christmas special
Haven't listened to "Las Culturistas," Matt Rogers' wild, extremely gay podcast with Bowen Yang? Or watched Rogers steal scenes in "Fire Island"? Or caught up to the hilarious Vanessa Bayer sitcom "I Love That For You"? Well, then, correct those errors, please, because the comic actor/writer/everything is no longer up and coming — he's here and doing it. And word is that casting notices have gone up on Backstage.com for a filmed version of his stage show, "Have You Heard of Christmas?" The concept involves Rogers performing a holiday album of original songs with special guests — one of those casting notices is for a Mariah Carey look-alike — and deranged Christmas cheer. There's no official word yet on when the special will drop, on which platform it'll appear, or which surprise comedy guests will collaborate, but we're already living for this unexpected and queerly cozy holiday news.
Romeo San Vicente will watch any Christmas special any day of the year.