Words by Carne Asada | Banner Photo by Maximillian Tortoriello
Rupaul's Drag Race contestant Lady Camden interviewed by Castro's favorite comedy queen, Carnie Asada. Watch Drag Race every Friday at 8pm only at Beaux hosted by Carnie Asada and Adriana Roy with special live appearances by Lady Camden all season long.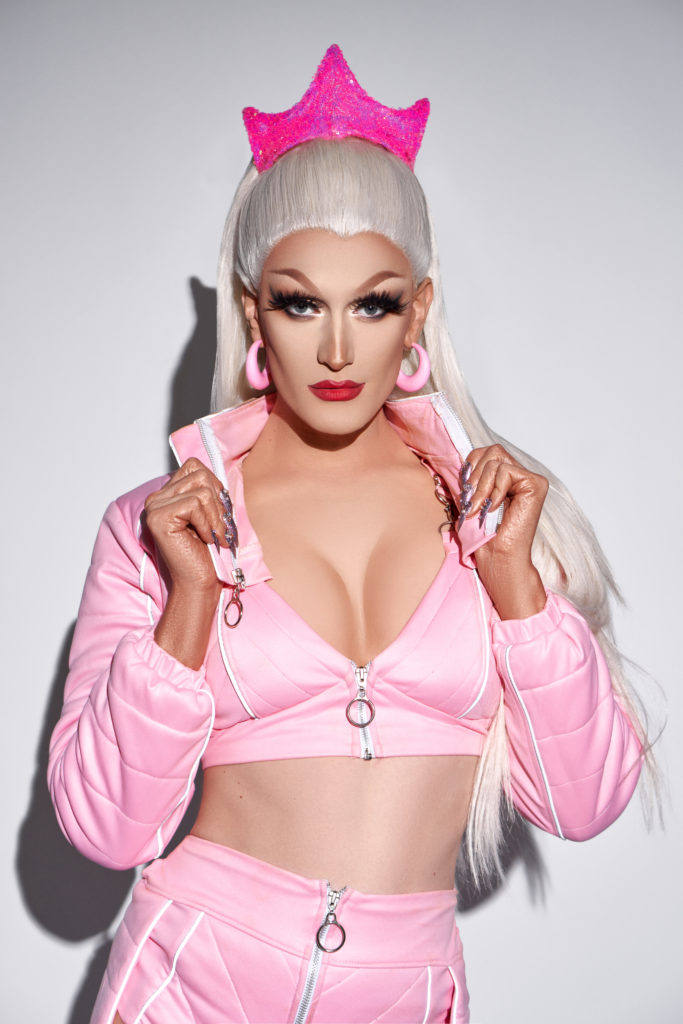 What was it like to first enter the work room? Were you excited? Nervous? 
All of the above!! I remember wanting to walk the perfect amount of steps… 1, 2, 3, 4, 5, 6, bevel and say your line! But as soon as I turned the corner and saw how different the set looks to what I imagined… babes the steps went out the window. I had butterflies in my stomach, feet, boobs and hair. 
How did you prepare for filming RuPaul's Drag Race?
I made sure to work on things I struggle at but also sharpen the tools 
I already have. You're only as good as your last performance…and having not danced much due to Covid I asked my friend in London to give me personal training sessions over Zoom. We did squats, sit-ups, arabesques and lots of stretches.
Where were you when you first got the call you would be on Season 14?
I was at my drag mum's house in Oakland on the patio overlooking the Bay…after just watching an episode of RuPaul's Drag Race. I got the call, ran outside and couldn't believe it.
It felt like a weird dream. I let myself have an hour to be excited and then it hit me…girl you gotta go get ready!! My drag mum (Mara Guevara) drove me back to Sacramento from her place in Oakland so that I could get home as fast as possible to start sketching ideas.
Did you feel a lot of pressure representing San Francisco? Did you get any good advice from other SF queens from previous seasons? 
Like most good stories, mine is a complicated one. On the show I'm a Sacramento queen 
because that's where I lived at the time of filming and auditioning although San Francisco 
audiences know me as a local girl because that's where Lady Camden was born. I'm proud to represent Sacramento because it's where I spent the first 5 years of my American life before moving to the Bay. Having said that, SF locals know I'm repping them, too. I'm honored to 
represent both while throwing in some British spice along the way! There is a sense of pressure but I knew there was no way I could single-handedly embody the entire Sacramento/Bay Area scene…I thought if I'm truly myself, I'll be a fabulously odd ball…just like everyone here at home.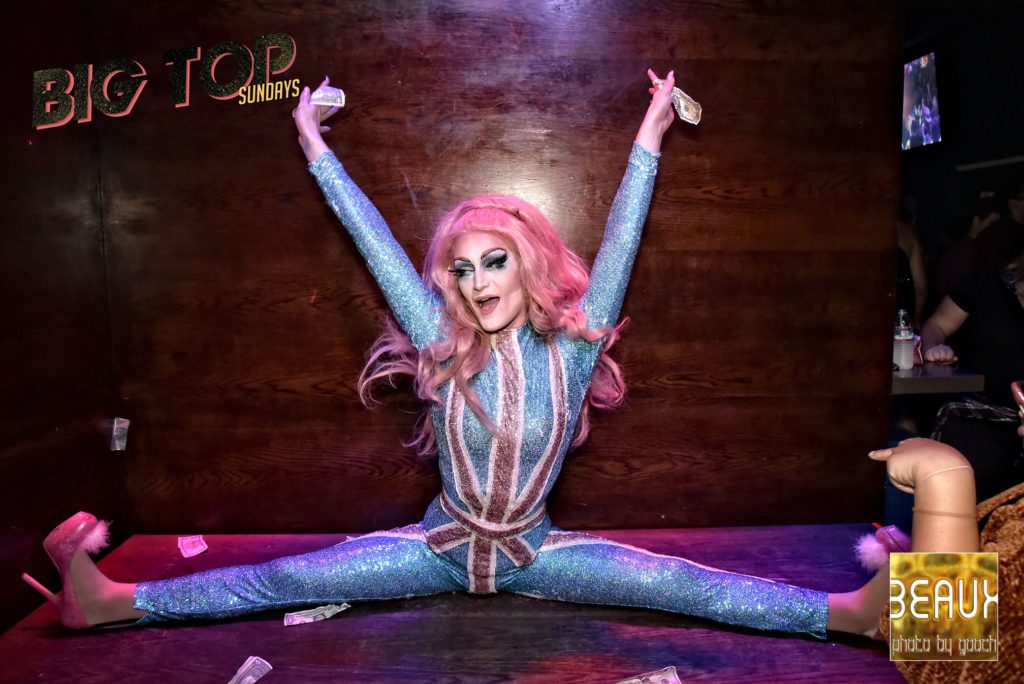 What was your reaction to seeing fellow Bay Area queen Deja Skyy enter the competition? 
Relieved to know I had a friend I could relax around! I thought okay great, there's one girl who knows me and knows how to have a good time. Deja is a sweetheart…with a very contagious laugh. 
Do you feel like your experience as a professional dancer prepared you for the challenges in the competition? 
Absolutely. Dancers have had to make huge sacrifices and put in an insane amount of hard work to be able to make a living doing what we love. It's that crazy competitive nature and 
dedication to seeing something through that lends itself to a competition where you gotta be ready for anything. 
What item did you pack in your suitcase that was super important to you?
Porn and English Breakfast teabags. I don't often like the tea they give you at hotels… it's not the real stuff. I needed to know I had one thing that would be comforting to sip on when I felt stressed and porn…well it's the healthiest way to reset the body babes. 
What do you hope folks take away from your appearance on Drag Race?
I think I come across easy going and playful in my introductions on the show but I hope people see that I came to compete. I'm polite, kind and all that but deep down I'm very competitive.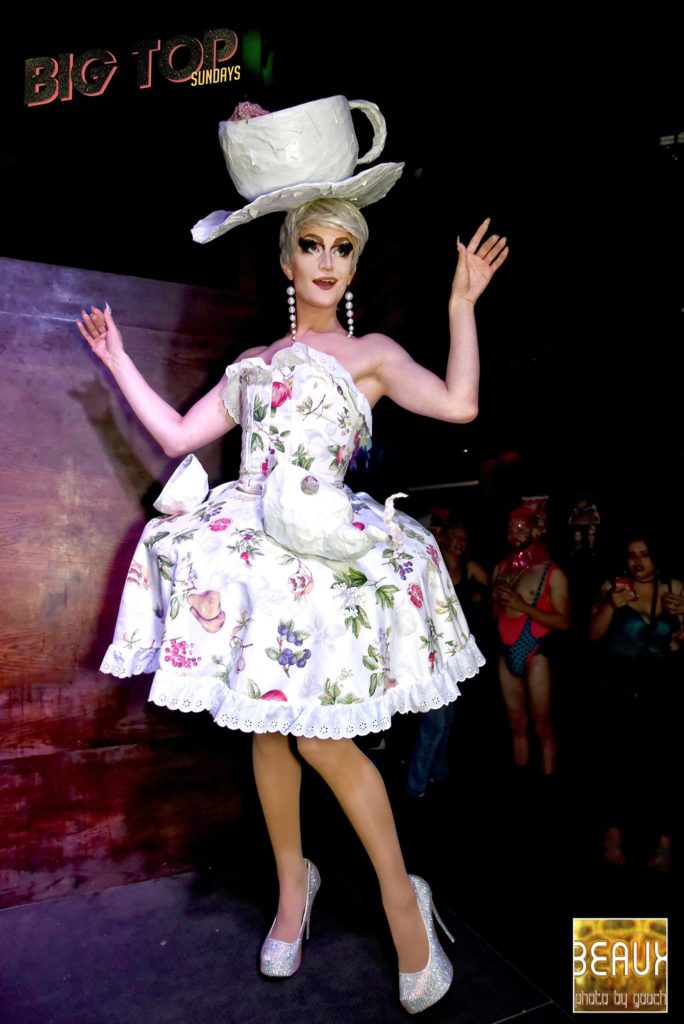 What was it like meeting RuPaul for the first time? 
I was very star struck and found it hard not to keep thinking "Oh my god…that's her. Right in front of me!" I could tell that Ru genuinely wants to have a good time on set, wants to laugh and wants to be impressed. 
Which judge did you connect with the most? 
I think Michelle Visage because I know she's a huge anglophile! She knows the UK and loves the culture well so I was excited to meet her. Despite her reputation for being the tough judge, I felt like everything she says is very genuine and sincerely constructive. Also my mum's a huge fan of hers.
Who is your favorite Bay Area drag queen. Who would you like to see on the show? 
I'm not just saying this because she asked me this question…Carnie Asada! I think it's rare to find a comedian that makes me belly laugh the way that Carnie does and I know how dedicated she is to her craft… even if she calls herself a clown. This city adores her and I know the world would, too. 
What was your favorite entrance look from the two part premiere?  
I have a few thoughts on this…I think Alyssa Hunter's was a smart way to introduce herself, Kerri's was stunning overall and I think Willow's made me laugh the most. I didn't at first understand Maddy's but now that I get the Guy Fieri reference I like it a lot more! If I had to pick one to wear myself though it would absolutely have to be Jorgeous' dress. SO cute. 
If you could describe Lady Camden in 3 words, what would they be? 
Cheeky, charming and talented AF. 
Where do you draw inspiration from? What are some influences on your drag and persona? 
Looking back on my life before drag I've come to realize I'm a lot more theatrical than I thought. I like to bounce between 90's nostalgia, fierce sexiness and theatrical drama. I draw a lot of inspiration from the theater of ballet and storytelling as well as a lot of 90's pop culture. I like to honor the ballerina bun-head in me but I also love to transport myself back to my happiest 
memories of being a kid listening to "…Baby One More Time" in my bedroom.
How did you start in drag? What brought you to the artform? 
I spent some time healing a back injury I got from dancing professionally and that time was a rough one to get through. There's nothing worse than being benched with too much time to think about how you're not able to do the thing you spent your life training yourself to do. Playing with makeup was a healthy and creative distraction. I felt like a kid again, playing with barbies when no one was watching. As I got more confident and better at makeup I had the same thought that every baby queen eventually has…"She needs to be seen."  
Where do you hope to be in 5 years?
I hope to be traveling the world, dancing, acting and living the dream. I have huge dreams which I hope to be on my way to seeing come true. I've always been a little too ambitious in some people's eyes but no one ever made anything great happen by being too scared to try.
What was the best part about filming? The most difficult part? 
The best part was making other people laugh. It helps you forget that you're being watched by millions of people. The hardest part was then remembering you're being watched by millions of people.
Do you have a tagline a catch phrase? 
No but I did just hear a funny joke. Why are red-heads such sluts? Because if the roof is rusted the basement is always wet. If I did have a tagline though it would be "Ladylike AF."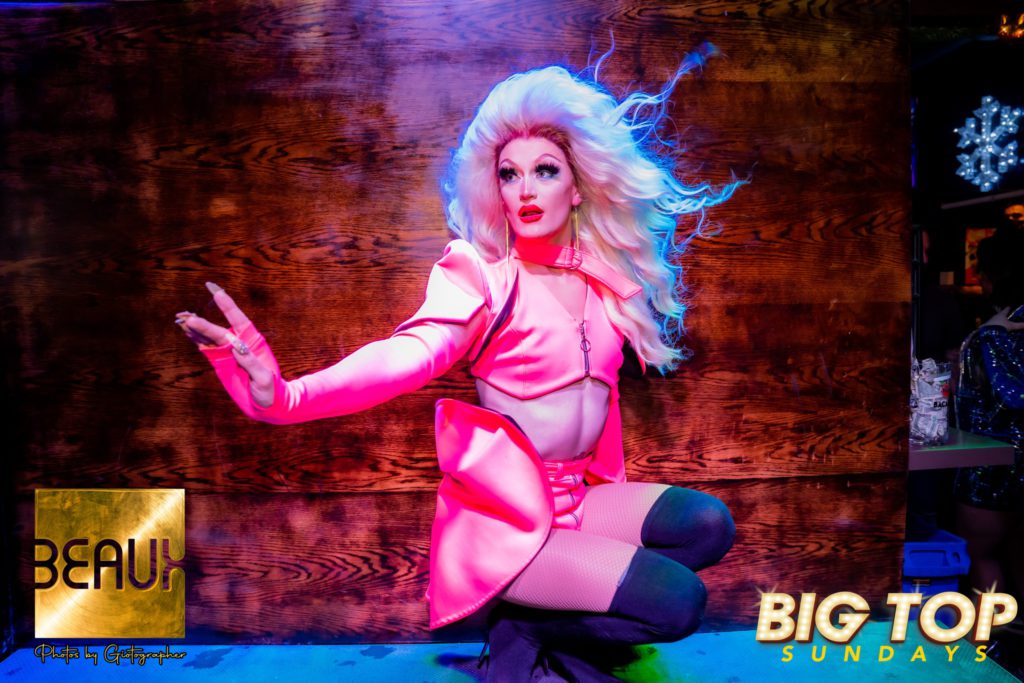 What RPDR queen would you like to collaborate/work with? 
I would like to dance something choreographed by Laganja Estranja. That would be fierce and I know she's fun to be around. 
What was it like to see yourself on TV for the first time? Any closing thoughts for your viewers/fans? 
I cringed super hard when I saw myself for the first time. I also didn't realize my voice was that soft. I sound a lot less feminine in my head…but once I got used to the first few minutes it wasn't so bad. I realized…yep that's me. Drag Race has become so adored by fans to the point that they themselves feel competitive to one another. People yell at the screens, get disappointed when their fave goes home and ecstatic when their fave wins. No matter what 
happens I just hope that the viewers remember to enjoy the ride. Like June once said, these are 14 people going on a journey and we just happen to be going on it in front of you. I would tell viewers to laugh at us, cheer us on, stay kind and stay ladylike AF.