Why Madonna Matters | The Queer Lives She Has Changed
Why Madonna still matters to LGBTQ+ people
By Matthew Rettenmund
---
On January 17, Madonna announced her first retrospective hits tour, with the first tickets going on sale a whole three hours later. "Take my money!" gays often say when their divas pull up with fresh product. But nobody is happier to take it than Madonna, our favorite '80s capitalist turned '90s kabbalist turned '20s TikTokateur.
For many Madonna fans — we were stans before stans were stans — confirmation of The Celebration Tour represents a long-awaited movement from Madonna toward unapologetically embracing her feel-good musical legacy. It's a huge change for an artist whose concessions on the dance floor have been many, but whose approach to touring has been to focus on what's new and to dole out what's the opposite of new judiciously, even stingily. Sometimes with unexpected bagpipes and guitar riffs.
On her Madame X Tour in 2019, she told one audience her manager wanted her to do more hits, saying this as if he'd suggested she take Guy Ritchie back. But while icy in her convictions, Madonna is a sucker for timing, and in the 40th year since the release of her self-titled debut album, a victory lap must have struck her as not just potentially lucrative, but an organically good idea.
Is she ready to be a legacy act? The phrase is dismissive, yet their supremacy in arenas means legacy acts are nothing if not relevant, even if they are not driving the culture forward.
While ready to acknowledge her legacy, Madonna is still always in that pop cultural driver's seat, and no, you can't take away her license, kids. Her notoriety is evergreen, fueled by her brilliant grasp on how to trigger the world and her disdain for convention. In her tour announcement video — a black-and-white homage to "Truth or Dare" — when participant Eric Andre deems the proceedings "sad and gross," Madonna cheerfully replies, "Sad and gross is very popular right now." She couldn't have come up with a better explanation for how social media works, or a more apt updating of the old adage, "No publicity is bad publicity."
Unlike with other artists, Madonna singing her back catalog is not selling out. Her songs, with very few exceptions, are not guilty pleasures; they're classics that defined (and defied) multiple eras and genres.
Madonna's diehards know what we were doing when she behaved un-"Like a Virgin" on MTV; when she warbled about being great with child on "Papa Don't Preach," giving Tipper Gore hysterical morning sickness; when "Like a Prayer" first blessed the radio; when she rapped (it is a rap) all our favorite movie stars on "Vogue"; when she stepped out onto that balcony to command "Don't Cry for Me Argentina"; when she let loose with that primal scream in "Ray of Light"; when she stalked her catwalk, a Leo in a leotard, to "Hung Up"; and even when she went upside down during "Human Nature" on her Madame X Tour, making it harder to hang your shit on her.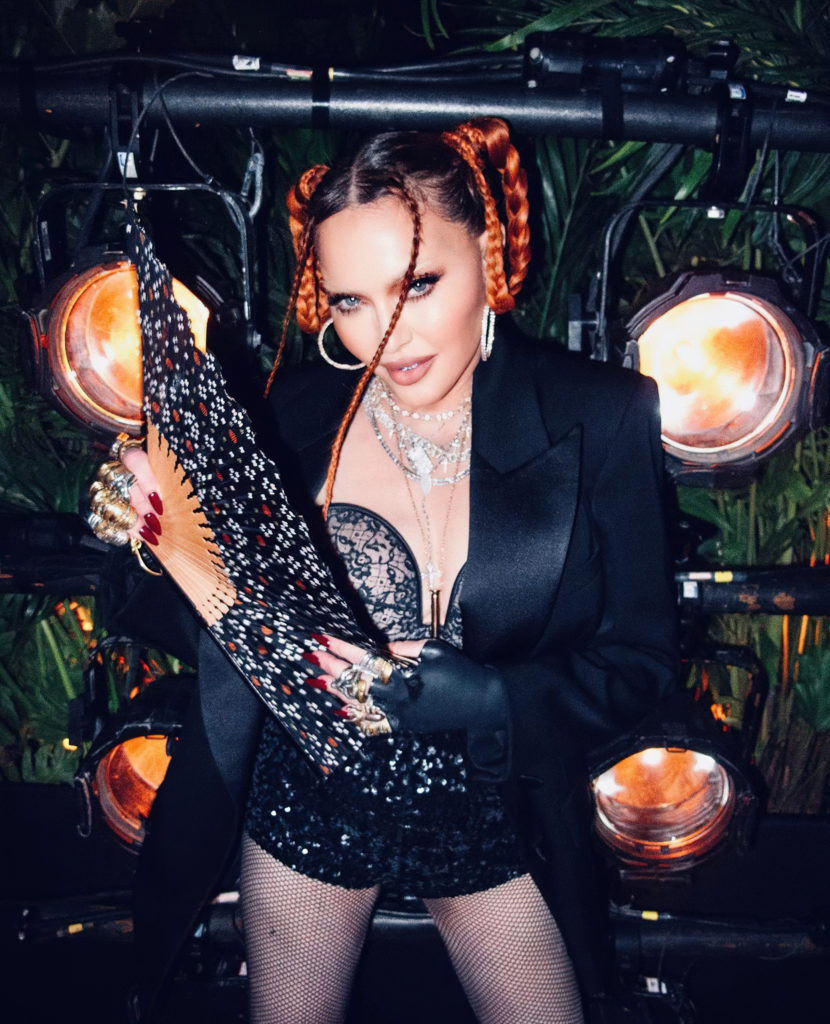 There are examples of divas before Madonna who seemed aware of their LGBTQ+ audience, but Madonna was the first in the trenches with us. Contrary to popular belief, queering her work did not usurp anything. Had she winked at us at arm's length, as many gay-household-name divas have since, her already incredible career would have been all the more monumental. She lost countless fans when she began openly inviting speculation about her sexual orientation over 30 years ago, culminating with her book "Sex." She not only ate with that, she ate ass with that.
Last year, Madonna took part in a silly TikTok video in which she tossed her panties at a wastebasket. The "if I miss, I'm gay" challenge ended with Madonna missing and shrugging — and with everyone missing the point. She wasn't coming out as gay — she was saying, "Think what you want."
If Madonna's gay antics feel tired, instead of dragging her, thank her for that — her goal from the beginning has been to inform the world, often by tweaking its inhabitants with cheeky scandals, that being gay should be a non-issue.
"I don't think it's relevant," she said in a 1992 interview of gay rumors about herself. "If people say, 'Oh, she sleeps with women,' I don't bother to deny it because I don't think it matters. Who cares?"
Now, unfortunately, some in the LGBTQ+ community are saying, "Who cares?" to Madonna, taking her for granted and even at times trying to erase or demonize her past efforts. This is largely because the culture has become so permissive that concerns about appropriation have taken over, a fight that could distract us from keeping an eye on why drag is suddenly casually being likened to grooming children for sex. And it's a shame Madonna is so frequently rejected, because the path she forged in the very middle of the mainstream helped allow us to be in a place where she could be seen as old hat.
Probably "old" is the operative word there. Madonna, always the kind of girl unembarrassed to say she deserved that "Evita" Oscar (she did) and to call herself a revolutionary (she is) and to sing "You're just jealous 'cause you can't be me" (you are), got away with being aggressively user-unfriendly for over 30 years because she was young, and then looked young. Now that she is older, her sass is less tolerable to a society conditioned to value youth over most things and convention over all. Especially from women. And especially from women past 60.
Maybe that is why Madonna still matters so much to so many. Yes, she is a legacy artist — and what a legacy! What she has accomplished cannot be taken away, cannot be diminished by others or herself, and will never be eclipsed by new artists thanks to her talent and timing.
But legacy artist or not, she continues to be more of a touchstone than ever by forcing us to confront the fact that aging gracefully is probably a bullshit, paternal, corporate construct, and really isn't very fun. And while it is OK for some artists to go all gray and demure, it should be equally OK, even encouraged, when Madonna vamps like Mae West (another maligned sex bomb with a killer body of work) or swears like a sailor, French kisses Jack Black (as she did in her tour announcement video) or forgets to wear anything but a gap-toothed grin.
I would never argue that Madonna is above criticism. She has said and done dumb things — nobody scrutinized for 40 years, let alone an artist committed to chaos agency, fails to fuck up.
Still, I think queer people who aren't under Madonna's spell should always remember two equally important things: You absolutely don't have to be a fan, and you absolutely don't have to be a hater.
God help me for writing it, but Madonna is a metaphorical load-bearing wall for more people than you know. When you tear her down, we feel it. We know she is not perfect, but she gives us strength, and if we react viscerally to your demolition efforts, it's because we know there are cracks in the wall, but we're so very tired of waking up to the wrecking ball every day.
In response to Madonna's The Celebration Tour confirmation, @heyjaeee wrote on Twitter, "I might actually cry seeing Madonna live and sharing the space with older gay men who grew up with her and who also lived through the AIDS crisis and are still here."
This tweet touched me, even if the "older gay men" part had me contemplating a lower blepharoplasty. Because Madonna was there, and because she made the most of her time there, and because she shows every sign of trying to keep doing so until someone is rolling around on her grave like she did on her mom's in "Truth or Dare," the truth is that Madonna, like all icons, means a lot to so many of us, sometimes for reasons beyond her own doing, sometimes for reasons even she dares not guess.
And when someone gives you joy and strength and inspiration, let alone for 40 years, that is always worth celebrating.
Matthew Rettenmund blogs at BoyCulture.com and is the author of the new edition of "Encyclopedia Madonnica." He grew up in Flushing, Michigan, and now lives in NYC.