Angelica Ross: Flaming Out, Flaming Over
By Chris Azzopardi | Photos by Joseph Rivera, James Anthony
---
For Angelica Ross, her short time on "Pose" wasn't an end — it was a beginning. 
After famously portraying Candy Ferocity on the FX series, which depicts New York City ball culture, Ross starred in another Ryan Murphy production, "American Horror Story: 1984," making her the first trans woman to have two series-regular roles. 
Today one of the most prominent trans names in Hollywood, Ross uses her spotlight to bring attention to pressing issues that affect the trans community. Last year, she signed a TV development deal with the production company Pigeon to develop and co-produce scripted and non-scripted content. She also serves as a consultant who has a hand in shaping trans narratives. And since 2014, she's been running her own business, TransTech Social Enterprises, which helps trans people secure jobs in the workforce. In 2019, Ross became the first trans person to host a presidential forum when she moderated the first-of-its-kind event, with candidates Joe Biden, Pete Buttigieg and Elizabeth Warren debating LGBTQ+ issues.  
Now on a new song with dance pop diva Ultra Naté and trans activist and performer Mila Jam, Ross brings her signature sense of empowerment and resilience to help put an end to the epidemic of violence against trans women of color. "Fierce" is an electro-pop anthem that also serves as a charitable release with the mission of enlightening, educating and celebrating the trans community. The proceeds benefit the GLAAD Transgender Media Program, The Sylvia Rivera Law Project and The Marsha P. Johnson Institute. 
During a recent Zoom interview, Ross talked about the single's origins, celebrating our trans foremothers during Women's History Month and what else needs to be talked about when it comes to trans women in Hollywood. 
I was gonna ask how fierce you feel. Because you look fierce.
Thank you! I feel very, very fierce today. I had some great makeup done today. I'm feeling great. Lately things have been kicking into high gear because I'm promoting a song, I'm going back to work on "American Horror Story." There's just a lot. I'm producing television shows. Like, there's a lot on my plate right now. If I can put on a face at the beginning of the day, then it can take me throughout all my meetings. 
How did "Fierce" come together?
It's pretty amazing: Anthony Preston, from A2 (Productions), contacted me. He had this song he had been working on with Ultra Naté, and she has been on the dance charts for just a while rocking the dance charts as a Black woman. Anthony being a Black queer man, her being someone in the dance genre who's been around LGBTQ folks and who's been an ally for so long — they wanted this to be like a rally cry, an inclusive one, to not just include all women but also bring light to the issues that trans women (are) facing. So they brought on Mila Jam; she ended up singing the second verse to the song. And so (Anthony) played the song for me and I was like, "Um, Anthony, I need to be on this song. You need to put me on this song." So I ended up singing the hook to the song: "Be legendary, be necessary, be extraordinary." And I guess the rest is history from there. But now it's got two trans women and a cis woman standing in solidarity, really calling everyone to the dance floor to celebrate themselves. 
I'm curious what the word "fierce" means to you and when in your life you first felt fierce.

I have been a fierce queen for a very long time. And for me, fierce comes out of this resistance and this resilience that really bucks up against the system that would rather have you cower down or dim your light for people, but instead I'm gonna burn brighter than I ever have and I'm gonna be fierce about everything that I do. 
And I think I've been doing that since, you know, probably grade school. So to finally have an opportunity at this level to have an accumulation of fierceness — at this point, I'm flaming out. I'm flaming over. I'm boiling out. It's just so much fierceness going on it can't even be contained. So we had to put it in a song, so you can put it on repeat and put it in rotation and play it again, and again, and again.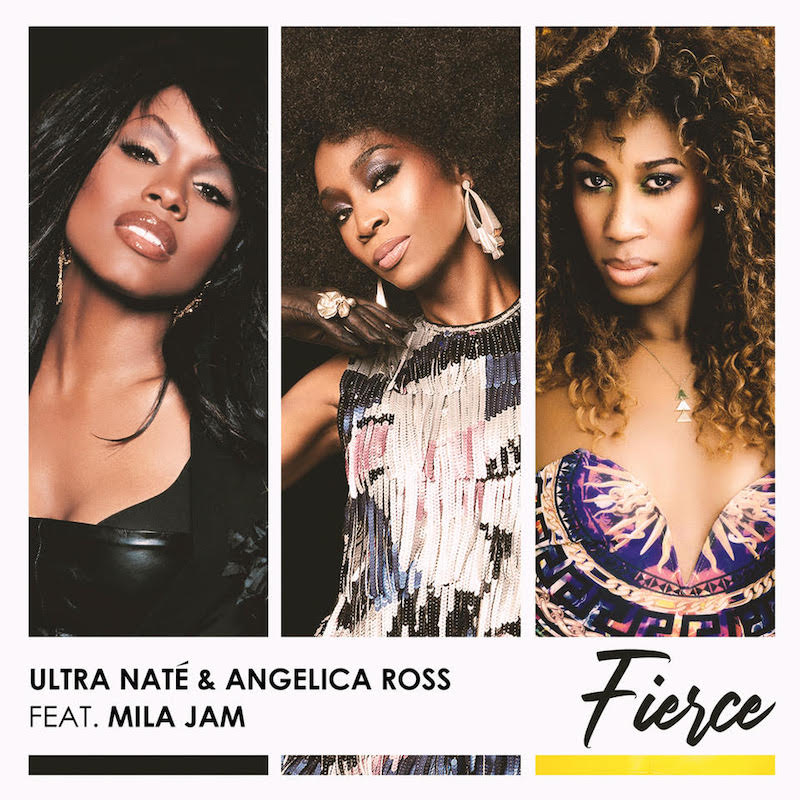 If ever there was a moment to feel fierce, I feel like it's now, right?

You have to. Right now is a time where there's so much being thrown at us and so much trying to take our energy and to get us to give up, or to want to not fight back against the system. But again, now more than ever we need to be fierce about who we are. 
The proceeds from "Fierce" are being donated to a variety of trans organizations working to end violence against trans women. What else can those who want to get involved do?

Well, here's the deal: I want to encourage folks to realize that we are in the year 2021 and that most of us who are a little older thought that we'd be flying on skateboards by now or doing a lot of things by now. But actually we're still fighting for some of the same rights that we were fighting for during the '60s and the '50s, and even before. 
So what I want folks to realize is that when we talk about trans equality or racial equality none of these conversations are new. They are just new to you. Which means there's so much information out there for you to get on your own. There's no need to use the labor of a Black trans woman who's already burdened by society. There's no need to ask a Black woman to give you the inside on Black Lives Matter when you can hit play on so many of the accounts from organizations to individual activists who are telling you exactly what the issues are. 
So what I would say is easily open up the Google browser and just say, "Trans rights." Go there. "LGBTQ rights." "Racial justice." These are just keywords that you can Google. But then understand that I don't care whether you are white, Black, Latino, Asian — I don't care what ethnicity, religion, sexual orientation (you are). Whoever you are, I want you to recognize that you have power to change the world, which means you have power to change the things that are going on right now. 
The violence against trans women — how? By learning how to speak up from your own perspective, in your own circles and in your own workplaces and in your own homes. Know that there is always an opportunity. And from my Buddhist practice, I learned this acronym "NOW." When you want to know when is the time I should speak up or say something: NOW. No Opportunity Wasted. Even if you don't feel that person can fully take on what you are going to say, you can at least drop a seed now that will blossom later. 
While we're on the topic of shedding light on the danger trans men and women experience on a daily basis, your role on "Pose" did just that. When you look back at your time on "Pose," what do you hope is the lasting legacy of your role?

You know for me it was never about the awards, although it would have been nice to be recognized for the performance and the contribution you're giving. But also, there's always been this conversation around trans actors and saying that folks like Jared Leto or these cis men are more qualified to play trans women when I just played Candy Ferocity and the world listened and the world cried. 
I know this because they tagged me in all of their videos. And I don't mean that in a light way. I mean that I felt the wave of love from the audience because they tagged me in it on Twitter, on Facebook, on TikTok, on Instagram, on every platform to let me know that they get it now and that they watched it with their family and their family gets it now. So, for me, that's all the reward that I need: knowing that the world is changing from something that I helped put out into the world. 
You're the first trans woman to have two series regular roles, with "Pose" and "American Horror Story." On "American Horror Story," your character didn't identify as trans, though Candy does. Is it important to you that trans actors are not just seen as people who can only play trans characters?

I think we're finally getting to the point here. The point is: an actor is an actor is an actor. Sometimes people want to say actress, but in reality most of us who are on the feminist vibe, we still say "actor" because an actor is an actor is an actor. And at the end of the day, I can play a trans woman if I'm the best person for the part. And I can play a cis person or not — just a person in the script — if I'm the best person for the part. But you (are) not going to tell me that Ving Rhames is going to play a better trans woman than myself. I mean, that was cute in "Holiday Heart." That was fine for the time and he did his best with that, let me tell you. 
But you know, now you can see these pieces of art will stand next to each other when you compare the performances of (Mj Rodriguez as) Blanca (on "Pose") and Indya Moore and Hailie Sahar and Dominique (Jackson) and Shakina (Nayfack) from "Difficult People," Alexandra Grey, Alexandra Billings, Laverne Cox, Trace Lysette. There are so many trans actors out there who are proving the point that we can represent ourselves better than anybody else can but also we can play everyday roles. Because why? Trans people exist in everyday society.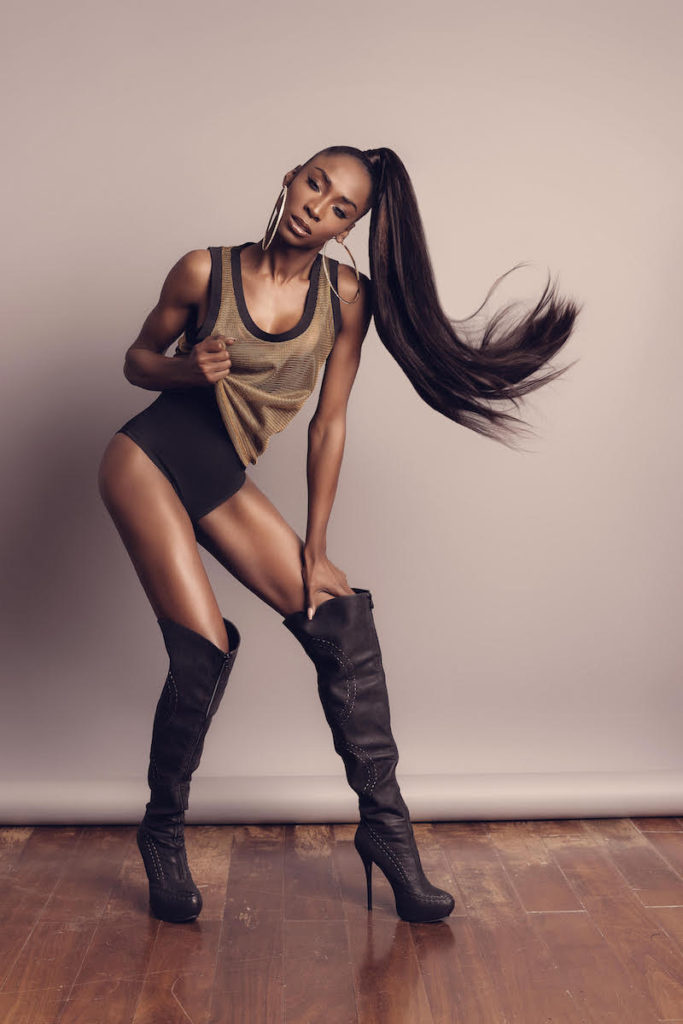 I was thinking of "Disclosure," the Netflix documentary about trans depiction in the media that you were a part of. There have been many conversations around what it's like being trans in Hollywood. But what is not talked about when it comes to being trans in this business that needs to be talked about?

I love that "Disclosure" talked a lot about how trans representation in media has been throughout our history, but I'm now a consulting producer on a show that is coming up – can I say something? I think so (laughs). But I'm a consulting producer for something for network television that is going to be coming out that is going to talk about what it's like as actors, actually, in the industry. So I think we haven't actually talked about what our experience is in the casting room: dealing with casting directors, being on set as a trans person and the challenges that we face. 
So definitely look forward to that conversation during Pride Month in June on network television on E! But yeah, honestly, as someone who works in front of the camera as well as behind the camera, I'm going to continue to look to how we can tell these stories from different angles and be even more inclusive. 
As a trans woman, what does it mean to you to be the face of Louis Vuitton?

As a Black trans woman, to be in my second Louis Vuitton campaign — the first one where I was able to wear my natural afro and just my natural hair and everybody was on board for it — and cut my hair completely off and wear it natural and still be able to give an amazing vibe that is at the same time female and feminine and also non-binary, it's all of the things. So I was just able to just be myself, and that's what I love about Louis Vuitton is that however I come to the table, they just recognize my beauty as a Black trans woman and that's amazing.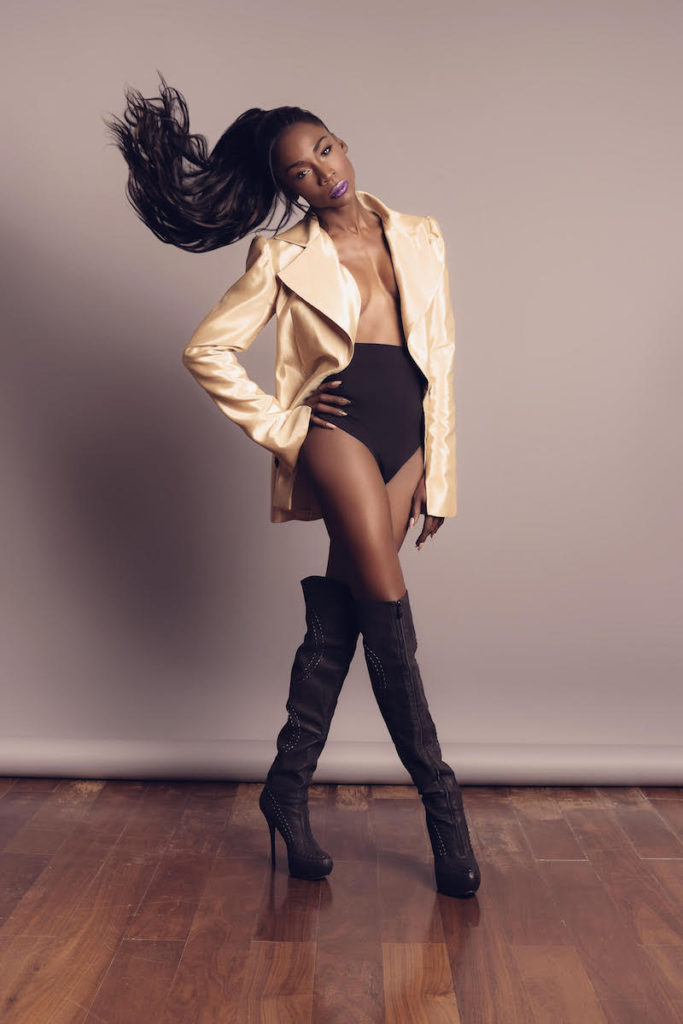 You are the CEO and founder of TransTech Social Enterprises, which provides job training and professional support for transgender men and women, as well as non-binary and gender non-conforming people. What has been its impact since it launched in 2014?

Well, listen, think about this: When I was younger, I went to places like Discovery Zone or the science museum in Chicago, or for some people it's the Apple Store. And going into the Apple Store — for me, 10 years ago, I used to actually work for the Apple Store — and that's why I even mention it because I understand what it's like to be wowed by technology and all of a sudden discover you can do and be creative and do something beyond what you're currently doing. 
For me, that is the essence that I brought to TransTech because I realized technology was actually in the hands of people who were helping to oppress me, meaning other folks had gotten the whim of technology to create adult websites and things that were sort of exploiting trans women. And being in the sex industry, what I realized from myself being marginalized into that space was that I didn't have to take my clothes off, I didn't have to be exploited, but I could work behind the website on graphic design or on retouching photos or on coding, CSS, HTML.
So I discovered there was such a spectrum in technology. So now in 2021, with TransTech, when I say tech I also mean people who have podcasts, folks working in sound engineering or working in film or lighting. There are so many things that trans can now have access to if they can just have access to training that involves technology because that's what this new environment is driven by. 
In honor of March being Women's History Month, why is it important that, when we celebrate Women's History Month, we also make sure we celebrate trans women?

It's just as simple as this: trans women are women. So if we're going to celebrate – truly celebrate – the beautiful, diverse spectrum of womanhood then we need to celebrate Black women, that includes Black trans women, Latinx women, women who have been struggling with fertility in this world. So many times when we talk about racial justice movements, women are just left out of the narrative when it's many times women who are leading that narrative. And many times trans women who are in those spaces (are) leading that narrative. And I will go forward even to say when we talk about men's issues that we talk and include trans men as well because trans men are men. 
It sounds so simple and yet for so many people it's not, so I think it's important to still talk about it.

It's important to talk about it until we understand that we're still in a situation (where) if I go to certain rallies in certain places and I say "Black Lives Matter" and somebody recognizes that I am trans I might be in danger. So in these moments they're saying, "Black Lives Matter, except for you, tranny; except for you, you homo." So that's why I say Black Trans Lives Matter. I wouldn't have to say it if I didn't have to say it. 
Who is the most influential trans woman you know?

For me, I feel like Marsha P. Johnson is one of the most influential trans women because her name is finally echoing throughout this movement to understand who we should be focusing on. But also voices like Janet Mock, who, even though she's younger than I am, is someone who is really pioneering this industry and opening up many doors for many of us to walk through, including myself.
---
This interview has been lightly edited and condensed for clarity.
As editor of Q Syndicate, the LGBTQ wire service, Chris Azzopardi has interviewed a multitude of superstars, including Cher, Meryl Streep, Mariah Carey and Beyoncé. His work has also appeared in The New York Times, Vanity Fair, GQ and Billboard. Reach him via Twitter @chrisazzopardi.