Descanso, Santiago & Twin Palms Resorts: A Three-Way Comparison
Words by Gregory Douglass | ThePalmSpringsGuys.com Blog
---
Thanks to the Resorts Palm Springs group, Twin Palms Resort, Santiago Resort, and Descanso resort are a delicious trio of stylishly chic boutique hotels for men-only right here in Palm Springs.
Santiago Resort was my first gay, clothing-optional stay in Palm Springs back in 2018. Even after living in Los Angeles for five years, I'd never felt so free and pampered all at once. It changed the travel game for me – so much that I never want to stay in a resort where I have to wear clothes again. I mean, at least give me the option 😉
I was curious how the others would compare to my unforgettable Santiago experience, so I booked a little staycation at Descanso and Twin Palms to find out. Here are the results, ranging from the vibe to the cost of each one.
In the meantime, here's a three-way comparison between Santiago, Descanso & Twin Palms Resorts in Palm Springs, California.
---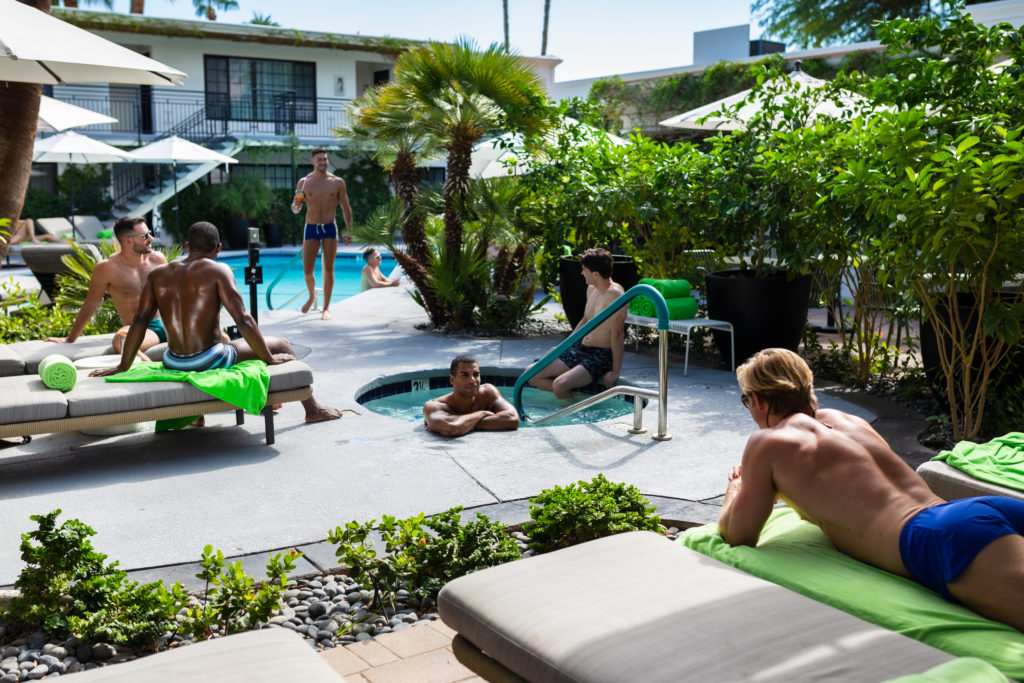 Neighborhood
Located in the El Mirador neighborhood, Descanso Resort is nestled in the northern side of Palm Springs. It's walkable to Palm Springs Uptown Design District, which is one of the city's furniture design, resale, antique boutique, and vintage hot spots sprinkled along North Palm Canyon Drive. Since Palm Springs is known for its midcentury modern design, there's plenty of inspiration nearby.
The food scene in this neighborhood hosts some of my favorite spots, like Sandfish Sushi & Whiskey and 1501 Gastropub. You can even get a sneak-peak of the Trixie Motel tucked behind 1501 if you're curious. Check out Descanso's "Staff Picks" section on their website for more local recommendations.
You can even borrow their complimentary bicycles if you want to explore the bike-friendly area.
Cost
Descanso features 16 spacious, beautifully furnished balcony & poolside rooms, suites, and deluxe suites. Rooms range from $200-$600 per night depending on the time of year. There's always something going on in Palm Springs, so keep tabs on big events that might influence popularity and demand.
Vibe
Of all three Resorts Palm Springs properties, Descanso is perhaps the most relaxing and restorative option of the trio. This is partially because of the lush greenery that envelops the resort's landscaping and garnishes the hotel walls. Its pops of modern greens and blues paints a clean, elegant white canvas that feels like a nod to old Hollywood both internally and externally. There's a wellness vibe to Descanso that somehow feels fresh and familiar.
The Resorts Palm Springs properties prefers to use the term "swimsuit-optional" at their properties. It's a tasteful differentiation from "clothing-optional" for this town because we have a variety of clothing-optional resorts for men-only that range the spectrum of sexual temperatures. That said, Descanso airs on the "chill" side of things. Some guests frolic in the nude while others don't. 
Throughout my stay at Descanso, the vibe was less social and more meditative. And while it was easy to make conversation and connect with other guys, the deeper need for relaxation felt like an unspoken agreement for most everyone there.
Perks
The Pamper Patrol (aka the Descanso team) also factors strongly into its restorative experience. They occasionally visit the pool, offering each guest a popsicle from a silver platter (literally and figuratively speaking) to cool off from the desert heat. Later in the day, a similar rotation offers up a tray of eucalyptus-dipped frozen washcloths, which you can drape over your face and inhale cooling vapors of.
Their 24-hour cantina is a highlight of all three properties. They are always stocked with complimentary snacks and beverages too, including the perfect Arnold Palmer and various coffee options that cater to your taste preference. In addition to their continental breakfast, guests are invited to linger by the pool for a complimentary 'stay & splash' poolside lunch.
Descanso's rooms are as relaxing as their outdoor essentials. They all include king size beds, beautiful gay artwork,  and poolside and/or mountain views of the ever-stunning San Jacinto Mountains. 
Other perks include a hydrating heated salt water pool and outdoor spa, an outdoor mist cooling system, a poolside garden shower, communal fire pit, and on-site electric vehicle chargers. There was even a little treasure box by the bed stand containing some fun adult amenities for your (or his) pleasure.
---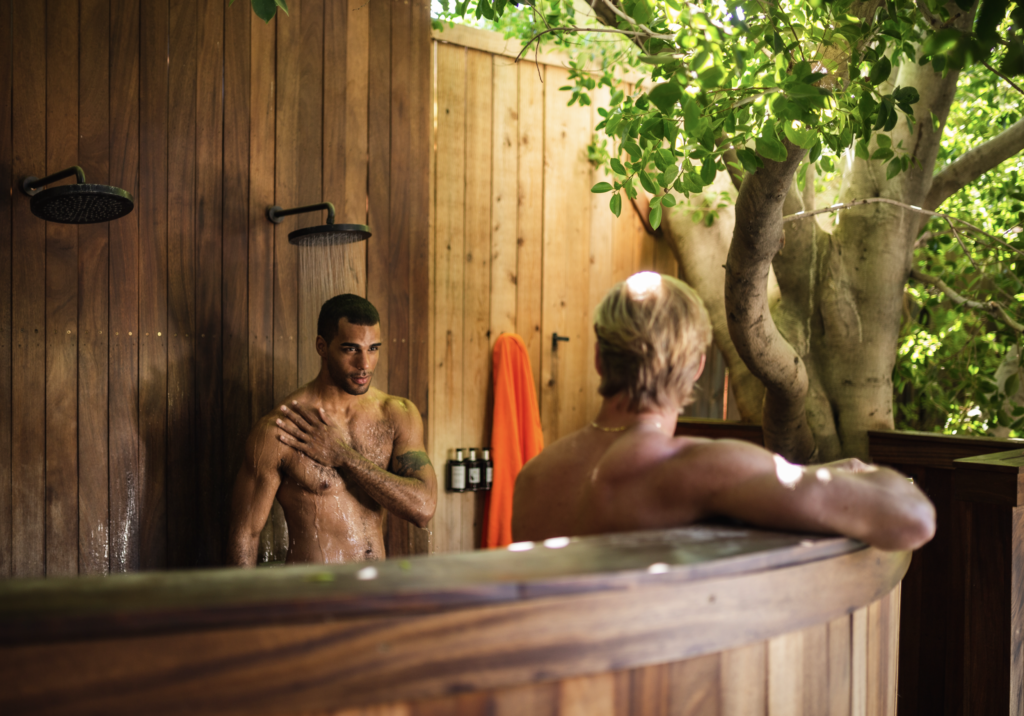 Neighborhood
Located in Tahquitz River Estates, Santiago is tucked in among other chic hotels & modernist architecture near the Southern bend of Palm Canyon Drive. It's on the south side of Tahquitz Creek Channel (a popular spot both day and night).
Santiago is walkable to Townie's Bagels Bakery & Cafe and Tool Shed – Palm Springs "original" leather and levi bar. There's a variety of bars and restaurants just sound of of Santiago as well, such as The Purple Room, Koffi South, and King's Highway Diner.
There's some fabulous shopping within walking distance too, like the Antique Galleries of Palm Springs, and GEAR Leather and Fetish (so you can suit up for underwear night at Tool Shed).
It's also close to some beautiful hikes, like South Lykken Trail and Indian Canyon Trail.
Cost
Santiago features 23 beautifully spacious balcony & poolside rooms and suites. Just as its brother properties, rooms range from $200-$600 per night depending on the time of year and what's happening that week in town.
Vibe
Santiago is the OG of the Resorts Palm Springs properties trio. It was opened in 1995 and was remodeled in 2015 with a more "Modern Ranchero" aesthetic, saturated in warm brown, orange, and red tones throughout. It's been one of the most popular gay resorts in town ever since.
Whether you retreat to Santiago to enjoy the solitude or to be a social butterfly, you'll definitely find your rhythm there. The social atmosphere feels more natural somehow, especially with those lingering in the saltwater pool. Perhaps it's because Santiago has been around the longest and is attracting repeat customers from all over that makes the experience feel so welcoming. I've heard Santiago stories that range from mild to wild, so let your conscience be your guide 😉
Santiago is also swimsuit-optional, of course. Guests often show up to the pool area in a swimsuit and remove it once they're comfortable enough. No matter what your comfort level, there's no better opportunity than a judgment-free gay resort to let down your guard (or your swimsuit) and be as free as you want to be.
Perks
Just like their brother properties, Santiago's 24-hour cantina is always stocked with complimentary beverages and snacks to enjoy. They offer a daily continental breakfast and complimentary 'stay & splash' poolside lunch as well.
You can marvel at more stunning views of the San Jacinto Mountains from just about anywhere on Santiago's grounds and balcony overlooks. Every room has a king size bed, indulgent bath & beauty products, and modern, inspirational decor throughout. And, of course, there are some fun adult amenities tucked away in each bed stand.
In addition to the warm and inviting diligence of Santiago's friendly staff, the same perks that have been infused into Descanso and Twin Palms Resorts all started here; an outdoor mist cooling system, a hydrating heated salt water pool and outdoor spa, communal fire pit, a poolside garden shower, and on-site EV chargers.
---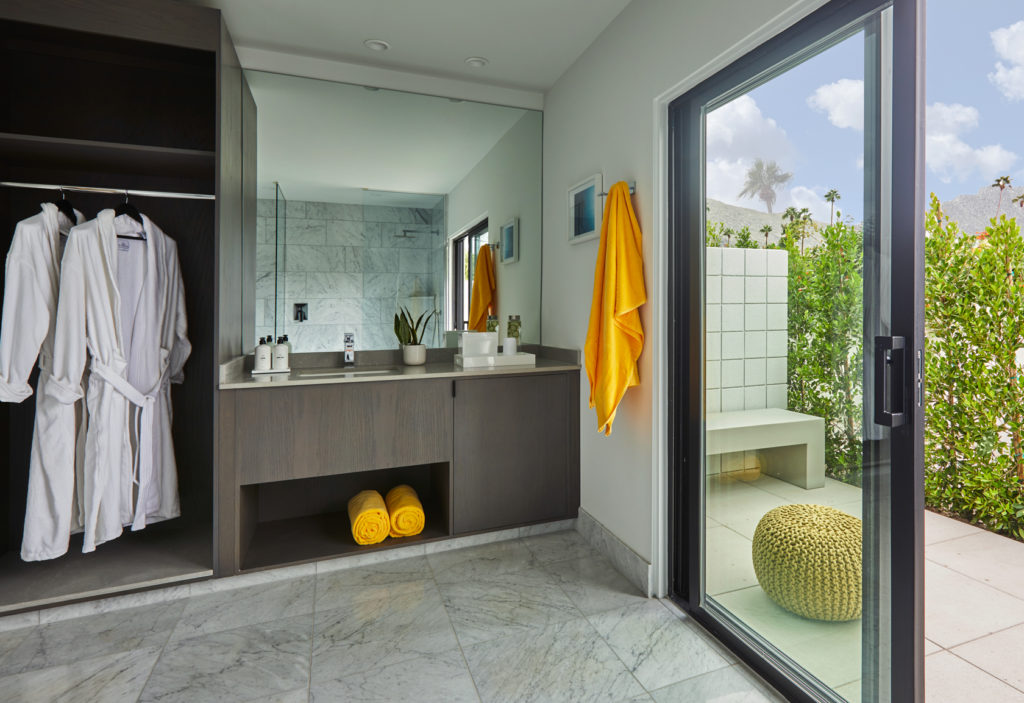 Neighborhood
Located in Palm Springs' first modernist neighborhood, Twin Palms Estates, is on the south side of town and closer in proximity to Santiago. Its pops of yellows, blues, and greens look as timeless and fresh in style and its modernist neighbors.
Twin Palms is a short walk to Koffi South and King's Highway at the Ace Hotel. It's also walkable (and bikeable) to the Smoke Tree Village which hosts eateries like Giuseppe's Pizzeria and 533 Viet Fusion. Be sure to check out Ace Hardware while you're there too. Lovingly referred to by locals as the "Gayce," it is perhaps the gayest hardware store you'll ever see.
Cost
Twin Palms Resort features 20 guest rooms, including two suites. Just like Descanso and Santiago, rooms range from $200-$600 per night depending on the seasonal demand, though they are the most budget-friendly option at the moment being the new kid on the block.
Vibe
Twin Palms Resort is the Resorts Palm Springs group's newest boutique hotel in town for men-only. It's their first mid-century-made-modern resort, and it's a true ode to Palm Springs modernism inside and out.
It first opened as the Brentwood Apartments in 1959 and was originally developed to blend in with its neighborhood, consisting of ninety modern tract homes designed by Palm Springs modernism architect William Krisel.
Twin Palms Resort has a more communal vibe, from its property layout to its spacious indoor and outdoor showers. Their heated salt-water pool acts as a centerpiece to its single-story rooms, all wrapping around the pool like a welcoming hug. 
Its potential for new friends feels as natural as it is encouraged, where guests can seamlessly connect with each other and then go their separate ways. Time will tell what the true vibe of Twin Palms Resort will be, but it presents a beautiful foundation for all sorts of possibilities.
Perks
Twin Palms twelve-man spa is as relaxing as it is inclusive, and it faces another breathtaking view of the San Jacinto mountains. In addition to its outdoor and communal poolside showers, every room comes equipped with spacious walk-in glass showers with both rain and handheld shower heads that inspire all sorts of fun ideas. 
It's effortless to retreat from the common areas and enjoy some in-room solitude as well. Every room features private rear patio areas as well as remote lighting and window shades. 
Following suit with Descanso and Santiago, Twin Palm's cantina is open 24-hours and stocked with complimentary beverages and snacks. They also offer a lovely continental breakfast and complimentary poolside lunch, catered by a local Palm Springs eatery.