Circuit Palm Springs: For the Boys AND the Girls!
CIRCUIT PALM SPRINGS: FOR THE GIRLS PART I (MAR 30 – APR 3)
The DJs of The Dinah Bring All the Ladies To The Yard
By BeBe Sweetbriar | www.BeBeSweetbriar.com
Whether it be on the radio, at a private event, in the club, or a circuit party, the profession of DJ is male dominated. But, female DJs are not only becoming more of a presence in the field, they are becoming a major force in the club scene, bringing their own unique sounds and individual talent.
Year after year, Club Skirts Dinah Shore Weekend has been a part of this blossoming movement showing that female DJs can rise and flourish at an event known to be the largest girl party music festival in the world. This year at The Dinah in Palm Springs from March 30-Apr 3, Club Skirts is also proud to introduce the first transgender DJ, DJ Automaton, to The Dinah lineup
Bringing DJs from all over the states and all walks of life, The Dinah offers an incredible platform for female and transgender DJs to showcase their chops and increase their visibility. These are individuals who more than hold their own in this boy's club. They are making a difference within the community and perpetuating the rapid rise of the girl power culture.
The DJs on the The Dinah party rosters are known for some of the country's hottest parties and are not afraid to mix it up.
They know how to spin the decks, keep the beat going, and keep pushing to carve out a unique sound for The Dinah! Let me introduce you to a couple of "La-D-y Jays", as I like to call them, at The Dinah Shore Weekend 2016 representing the established female DJ in front, and Lady Jays on the rise.
DJ ASHA: Brings Musical Versatility to Any Party
DJ ASHA is one the most versatile DJs on the scene. She is comfortable spinning a selection of Party Anthems, Hip Hop, EDM, Old Skool, Reggae, RnB, and Top 40. Her versatility showcases her ability to read and satisfy any crowd. ASHA is respected globally as a sassy, crowd pleasing and ultimately entertaining DJ and producer. ASHA can be found rockin' crowds in the world's biggest clubs regularly spinning in London (her hometown), Australia, Croatia, Dubai, Greece, Ibiza (for P.Diddy), Italy, and Russia, plus most recently in New York, San Francisco, Las Vegas, Miami and Hollywood. ASHA has hosted the LA Pride festival 5 years in a row. She is also a resident DJ for Olivia Travels.  ASHA is definitely one of those female DJ forces to be reckoned with.
BeBe:  Performing as a DJ at Club Skirts The Dinah Shore Weekend has to be very exciting for you even returning in the lineup as a veteran DJ performer.
DJ ASHA:  It's definitely one of the highlights of my calendar of gigs each year. It's always a lot of fun. I get to connect with people I don't see often. There aren't many events for lesbians like this so people come from all over the world.
BeBe:  You are known as a DJ with the most versatility. You can play any music at any event, for any group of people, at any place and time! How do you explain your eclectic ability?
DJ ASHA:  Partly (I am able) because I'm a Londoner, and the London music scene is very eclectic. It's such a cosmopolitan place that you grow up listening to everything. My parents are from Guyana and South America, so I grew up listening to Reggae and Calypso and Caribbean music. And then, I had Indian friends, and friends who were Russian and Greek. There was a huge mix of music. When I started DJing, the London Garage scene was big, drum and bass, and dubstep… So, when you play in a mainstream nightclub in London you are going to play a variety of music. I love it! I would probably get bored if I had to play one style of music. It's just as much fun for me playing the pool party at the Dinah with fun sunshiny upbeat kind of stuff, as it is playing on an Olivia Cruise playing old-skool Disco. As long as people are having fun and enjoying themselves (the type of music) is not going to change the energy between me and them. For me when it comes DJing it has always been about creating a vibe and environment where people can enjoy themselves.
BeBe:  You are in a very male dominated field as a DJ, how has it been for you on your professional journey in becoming the in-demand DJ that you are?
DJ ASHA: It's tricky because you (as a woman) have to be expressive and confident, but if people perceive you to be too confident, then they think you're a bitch or bossy, words they use (to describe) for women that they don't use for guys. I try to stand up for myself but I feel if you show up, you're on time, you do what you say you're going to do and always do your best, you will get rewarded ultimately somehow. There are obviously race and gender barriers, but you can only do your best. If people don't want to hire you, if they don't want to pay you fairly, then I don't want to do business with those people anyway. Why would I want to make their party crackin' when I can play for the cool people?
BeBe:  You have also been doing something that has had a big void of women and that is you are producing music. Music production has been another area in the music industry with limited numbers of women participating. How has that been for you?
DJ ASHA: That's been cool for me. It's tough to find the time to dedicate to it, but I love producing because it is an expression of my creativity. Sometimes as a DJ you will hear a song and go 'this song is cool but it's not really dance floor ready, but if I add this beat or change that I can make it pop on the dance floor.' That's how I started getting into producing. But it's like anything else in the entertainment world, male dominated and very competitive.
BeBe: You are a radio personality, a club scene DJ, an interviewer…. You do so much already, where do you see yourself going in the next 10 years?
DJ ASHA:  Well, I'm going to be launching a fitness studio this year. Because I'm very much into fitness as I am music. I would like to be involved with getting people healthy. That's my big project this year. I have had to turn down a lot of gigs this Spring because I'm so busy with the fitness studio. And, I'm a newlywed and my wife and I have bought some property and we are looking to start expanding our portfolio.
BeBe:  Music and fitness go hand-in-hand, honey. Everyone I know works out to their favorite jams. I can see you incorporating different music channels in your fitness center to match your eclectic style for your members to tap into while they workout. That would be cute.
DJ ASHA: Exactly! Thank you. It's actually a kick boxing studio I'm focusing on, and when people come to do their kick boxing, they are going to be having so much fun they won't even be thinking about 'when is this going to be over'. Let's just jam and have fun!
DJ M.O.:
DJ M.O. (Monet Bernard) is a native of Virginia and began her career as a DJ in her third year of college at the University of Virginia. As an avid lover of music, M.O. honed her skills by working anything from basement parties to large University events and eventually started working events in Washington D.C. After two years she moved to New York City and has never looked back.
Since her time in New York, M.O. has made her rounds in the LGBTQ scene, DJing for the likes of Whitney Day, Hot Rabbit, Truckstop, DapperQ, and Club Skirts Dinah Shore Weekend, where she was a participant in the 2015 Battle of the DJs. M.O. has put her musicality and versatility on display at some of the biggest venues in New York City including Marquee NYC, The Park, Avenue, Studio XXI, and Gramercy Theater.
BeBe:  Congratulations on joining the DJ lineup at this The Dinah Shore Weekend in Palm Springs in March. Your participation came about this year from you being a part of the 2015 Battle of the DJs at The Dinah, correct?
DJ M.O.: Yes, that was my first time performing there or even being at The Dinah. It was a first all-around.
BeBe:  I can only imagine how you felt when you got the call that Club Skirts wanted you back this year.
DJ M.O.:  It was like winning an Oscar, honestly! It is a pretty big deal for me, being from a smaller area in Virginia and having to do a lot of work (to get to this point).
BeBe:  You have been one of those, what I call, "grassroots DJs" who have plugged along and plugged along taking the little things until the bigger opportunity presented itself. You have paid your dues along the way really grasping the rudiments, if you will, of the craft of DJing. What do you think about your journey in the world of DJing thus far?
DJ M.O.: It is interesting for you to put it like you have because I don't feel like it has been any particular journey. I guess it is like they say when you do what you love, it's not really work. It has been challenging at some points, but I started DJing because I wanted to control the music that I was going to. It wasn't like I had stardom in my eyes. I just wanted to learn the things I saw people do, and started practicing. I am thankful for the way that I learned, with some computer programs, but with vinyl too. My mentor learned on straight CDs, and his mentor straight vinyl. With every generation they become more spoiled because they have more technology. I know that there are some people out there that think all they have to just press buttons. But there is a musicality to everything (involving DJing). These producers who turn into DJs are musicians first. They don't just sit behind a table and press buttons. They make the music that they play or the know where the samples came from. They have done their research. They are "students" of what they do. I hope I'm a "student" of what I do.
BeBe:  DJing is the art form of putting music pieces in the effort to tell a story, in my opinion. But there is another ingredient that makes DJs like you float up to the top to be a part of that cream on top of the DJ cup. But, I don't know what the ingredient is. Do you have any insights to what it may be? What is it that elevates DJs to be a part of the cream?
DJ M.O.:  What I enjoy when watching DJs is the fact that they know exactly what to play "to make everybody" feel something. I have had the most fun when I have connected with who never is in the crowd. I don't know how you do that. I think you have to a little bit of a third eye. Music is just as much emotion as it is anything else. So, sometimes, if you stick to that, you just have to go with (playing) what feels right. Knowing how everything that you play fits in and how it will make other people feel. You have to read the crowd, read the venue, read the weather and have that third eye to be able to pick on things. And, it's a second-to-second thing. I hate when people ask me what am I going to play for my set. "I don't know!" Hopefully it has a beginning and an end, but it could go a variety of different ways depending on what that third eye reads.
BeBe:  Bravo! Love what you are saying. So what do you say to a DJ when they come off a set that bombed and they say 'oh, it was a really dead crowd'? How do you respond to that? Is that a legit response to a supposed good set gone bad?
DJ M.O.: Well, I have played where nothing I played seemed to go over well. Those things happen, but I try not to use the crowd as an excuse. Sometimes it has nothing to do with what the DJ is playing. Sometimes there is not enough alcohol, sometimes the venue is too crowded, sometimes it's too early or too late. But no matter the variables, I still take pretty personally if it isn't going the way I'd hoped. (Laughs)
BeBe:  What's next for you after The Dinah.
DJ M.O.: My goal is to be in as many Pride events or things like that as possible this year. I'd like to do more out West and go overseas in the next year.
DJs ASHA and M.O. joins a lineup at the 2016 Club Skirts The Dinah Shore Weekend in Palm Springs March 30-April 3 that includes DJ Amara, DJ Lezlee, DJ Angie Vee, DJ Automaton, DJ Citizen Jane, DJ Goodboy, DJ Leah V, and DJ Val G with headliners DJ Mary Mac, The X Names, DJ Taryn Manning and DJ Samantha Ronson.
For tickets and party schedule go to www.thedinah.com
CLICK HERE TO ENTER TO WIN TICKETS!!!
Compliments of Gloss Magazine in affiliation with 'It's Everything with BeBe Sweetbriar' official The Dinah 2016 Media Sponsor | www.BebeSweetbriar.com
______________________________________________________________________
CIRCUIT LAS VEGAS: FOR THE GIRLS PART II (APR 28 – MAY 1)
WORLD'S HOTTEST LESBIANS TAKE OFF TO "THE STRIP" FOR DINAH VEGAS 2016
LAS VEGAS – Celebrating Year Five in "Sin City", the hottest women in the world are taking off to "The Strip!"  Girl Bar, in association with Total Rewards by Caesars Entertainment, ignites Sin City with the ultimate lesbian weekend as DINAH Vegas sizzles April 28-May 1, 2016 in fabulous Las Vegas, Nevada.
Host hotels for 2016 are the Flamingo Resort and the NEWLY remodeled and contemporary LINQ Hotel. Both hotels are right in the NEW LINQ corridor, perfect for shopping & socializing; dining, gambling, bars and the fabulous LINQ pod Ferris wheel.
Dinah Vegas has become the "must attend" event of lesbians from around the globe. And in 2016 women from everywhere – including Australia, Brazil, Canada, England, France, Germany, Mexico and New Zealand to name but a few, will enjoy all the non-stop entertainment, world-class dining, 24/7 gaming and fantastic weather that only Dinah Vegas offers in the City that never sleeps and where there is no "last call!"
"Las Vegas has more to offer visitors than ever before, and so does Dinah Vegas," said Dinah Vegas Producer Sandy Sachs.  "Through our fabulous long-term partnership with Caesars Entertainment, our patrons can always enjoy Vegas' newest hotels and hottest locations. Year in and year out, they keep coming back for more and bringing their friends."
Once again, Dinah Vegas takes over some of Caesars' exclusive and most sought-after venues for its world famous events, created by lesbians specifically for lesbians.  New for 2016: Thursday's OPENING PARTY happens at Flamingo Hotel's Beach Club Pool.  Friday night's GLITTER II is back at the famous and extremely popular VOODOO Lounge at Rio Las Vegas.  Both decks are for the gals alone – for dancing, socializing and enjoying breathtaking views of Las Vegas at night.  This year, our COCKTAIL PARTY for VIP guests and sponsors happens at the Rio Las Vegas Wine Cellar. The event features a hosted fine wine tasting with selections from their extraordinary cellar.
The Flamingo Hotel's sprawling GO Pool will be the setting for Saturday's INFINITY POOL PARTY, featuring VIP cabanas, canopy beds, daybeds and over 300 pool chairs. West Hollywood Lifestyle Magazine will present a poolside fashion show and a soon-to be-announced National Recording Artist performs live.
Our cutting edge DJ roster this year includes DJ Whitney Day NY/LA; Dawna Montell, resident DJ at The Abbey LA; Dj Kurty, resident DJ at Rich's in San Diego & San Francisco and international DJ DuJour from Sydney Australia.
Check out www.dinahshoreweekend.com for all the latest updates, full Dinah Vegas 2016 schedules, tickets, hotels and Weekend Package options.
THURSDAY APRIL 28
WELCOME PARTY at Flamingo Hotel Beach Club
9 p.m. to 2 a.m.
New location for 2016!  Get the weekend off to a great Las Vegas start at the Beach Club.  Meet up and Mingle with food, cocktails and music from DJ DuJour – direct from Sydney, Australia.
FRIDAY APRIL 29
COCKTAIL PARTY for Weekend Package guests at RIO Hotel Wine Cellar
8 p.m. to 10:30 p.m.
NEW for 2016 –  Weekend Package guests enjoy a hosted tasting at the best wine cellar in Vegas.  This is an experience you will never forget!
GLITTER II at VOODOO Lounge and Nightclub atop RIO Las Vegas Hotel
10 p.m. to 4 a.m.
Back by popular demand – on two decks! Be there for an evening of the best views overlooking the fabulous Las Vegas skyline. Live DJs pump out red hot tunes on the dance floor and Go-Go Girls will be shaking it all night.
SATURDAY APRIL 30
INFINITY POOL PARTY at the Flamingo Hotel GO Pool
9 a.m. to 7 p.m.
Once again the Flamingo Hotel's sprawling GO Pool is all ours, all day long. Hang out, catch some rays, enjoy a cocktail or take a refreshing dip in the crystal clear water!  DJs spin the sounds on our new, expanded sound system as Girl Bar's Go-Go's rock your world.  West Hollywood Lifestyle Magazine presents a sexy fashion show.  In addition, a soon-to-be announced National Recording Artist performs live.  Gaming tables, full bar and menu are all available poolside.  Cabanas and daybeds sell out fast, so make reservations now!
VEGAS WHITE PARTY under the Eiffel Tower at Chateau
10 p.m. to 4 a.m.
Be a part of the weekend's most dazzling event filled with gorgeous women and white-hot style. This is the time to sparkle with red carpet photo opportunities, performance art installations, non-stop burlesque performances, Go-go girls and dancing under the stars with our best DJ's. The party goes until the wee hours of the morning as there is NO last call in VEGAS!  This is the must-attend event everyone will be talking about.
SUNDAY MAY 1
SUNDAY FUNDAY POOL PARTY Location TBD
10 a.m. to 6 p.m.
Finish off the weekend in sexy style as we do Sunday the fun way…like no other place but Vegas! Join us for an unforgettable party featuring live DJs, hot music, sexy Go-Go dancers and, of course, girls from all over the world!
Specially priced Weekend Passes are always the best value. You get priority admission, and even if you can't attend every event, you still save money.
CIRCUIT PALM SPRINGS: FOR THE BOYS (APR 8-11)
WHITE PARTY PALM SPRINGS 2016 BRINGS NEW HEAT & SURPRISES TO THE DESERT
PALM SPRINGS, CA — White Party Palm Springs brings new heat to the desert in 2016.  All of your favorite events are even bigger and better.  Incredible new parties are waiting to be explored, including the totally redesigned Saturday night White Party. Jeffrey Sanker has completely rebuilt his signature event from the ground up to create an experience beyond expectations.  It all happens April 8-11 in the desert's most beautiful oasis.  Join tens of thousands of the hottest men from all over the planet as they take over the entire City of Palm Springs for the world's premier gay dance festival – three days of unforgettable parties!
For all the latest event details, tickets/passes and hotel information, visit:  www.jeffreysanker.com.  VIP Passes give you the full White Party experience.  If you are between the ages of 21 -25, the all-new NEXT GENERATION party pass offers big savings on our most popular events.
Report for duty Friday night at the all-new Commando Military Ball, fueled by ADDICTED ES Collection.  Choose your battle:  Gear up in your best uniform or dress down in commando underwear. Join the troops for a full frontal assault happening from 9pm – 5am at the Renaissance Hotel.  Secure clothes check available or leave them behind in your room.
Saturday, dive headfirst into the fun at WET n WILD Water Park.  Grab your swimsuit and shades, all 21 massive acres are exclusively ours, from 11am – 6pm!  Get swept away by the sounds of Aussie DJs Dan Slater and Wayne G!  We're making even bigger waves this year with a larger dance floor, party areas, expanded bars and more room to relax and catch some desert rays.  With more than 18 water rides, it's a day of photo ops to last a lifetime.  Continuous shuttles bring you right to the action with ease.
More than a year in the making – the weekend's most anticipated moment happens Saturday night as Jeffrey Sanker propels White Party to a completely new level.   It's a 10-hour dance marathon that begins through a jaw-dropping illuminated entrance.  Feel your senses erupt and your spirit ignite as the beats and rhythm beckon you to the dancefloor.  State of the art lighting and effects shower the crowd in a kaleidoscope of colors and lights.  Mind-blowing custom LED visuals spring to life from every angle.  Meanwhile, a non-stop flow of amazing entertainment and performers keep you captivated throughout the night.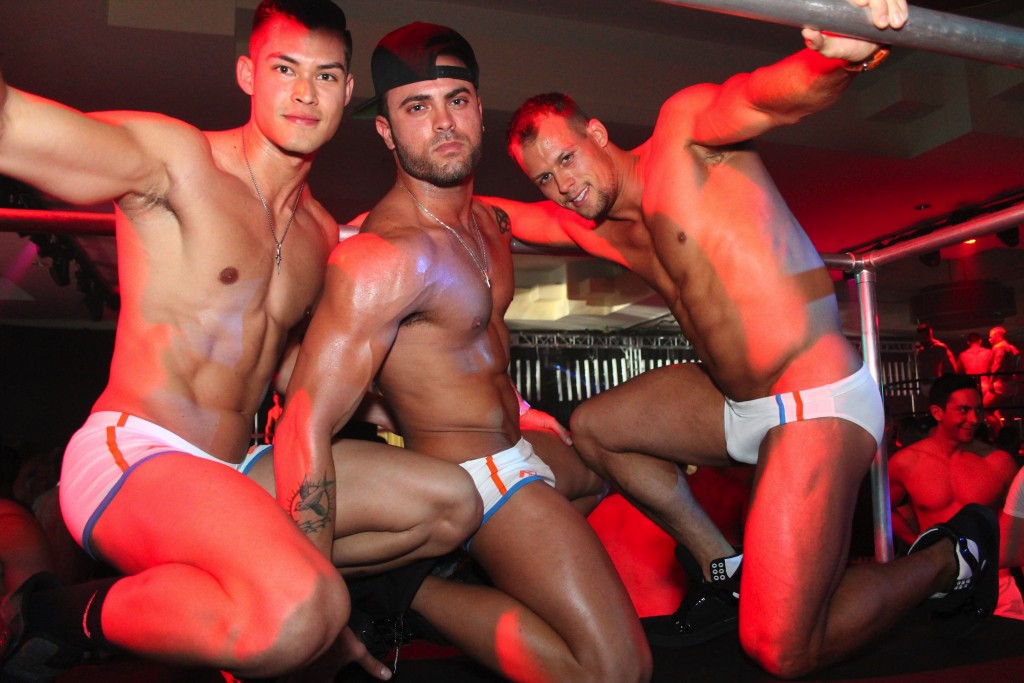 Direct from Tel Aviv, International Mega-DJ/Producer OFFER NISSIM returns to the desert to headline White Party's main event and lead an incredible DJ line up including Dani Toro and Nacho Chapado.  From the clubs of Tel Aviv, to the top of the charts, Offer Nissim is a force to be reckoned with.   As a producer, he consistently delivers top-selling remixes for superstars such Beyoncé, Madonna, Jennifer Lopez and Deborah Cox.  As a DJ, his live performances are a spectacle to behold.
On Sunday, it's time to converge under the desert sky for an afternoon of pure magic at SUNSET T-DANCE.  Warm breezes and hot bodies fill the dance floor at White Party Park with music by DJs Grind and Ralphi Rosario while you soar to new heights on the world-famous White Party Ferris Wheel.
This year, we crown dance diva and newest "Real Housewives of Beverly Hills" star Erika Jayne "Queen of White Party," where she will celebrate her coronation with a crowd stopping performance.
And, as the sun sets against the mountains, and more artists take center stage, the excitement will climax with the desert's largest choreographed fireworks display, set to an exclusive remix from DJ Grind and Toy Armada.
The weekend concludes at the CLOSING PARTY 10pm to 7am back at the Renaissance Hotel.   To keep the night pumping and energized, we're flying in DJ sensations Sagi Kariv (Tel Aviv) and Danny Verde (Milan) together for the first time anywhere.
Stay where the boys are!  The center of the action is at our host hotel, the Renaissance Palm Springs.  For more information and reservations visit:  www.jeffreysanker.com